Choosing the right patio furniture for your space is no easy task. Here are tips on making sure you choose the perfect patio furniture for you!So you've decided to purchase outdoor furniture. Congratulations! Whether you're furnishing a patio at your very first home, or giving your outdoor space a much-needed upgrade, buying patio furniture can be an exciting process. With so many options available, you're sure to find pieces that match your design taste and blend perfectly with your lifestyle. You can customize your space and create a patio so beautiful you'll be disappointed when it's time to go inside!
But what kind of patio furniture do you need? There are a few things to consider about your patio size, personal lifestyle, and design preferences before you can choose the perfect patio furniture for you. Your available space, desired functionality, ability to maintain, and personal style are all things to think about before you get shopping. To help guide you on your patio furniture journey, follow our step-by-step guide to make sure you cover all of your bases before investing in brand new patio furniture.
1. What can you fit in your backyard?
You've heard the expression, "Your eyes are bigger than your stomach" before. Well it's possible that your eyes might be bigger than your backyard, too. First and foremost, you need to determine how much space you have to properly, and comfortably, place your patio furniture. If you're working with a small apartment balcony, you won't be able to fit an entire eight-person dining set, but you likely can fit a cute bistro set. You may have to make some sacrifices due to space, but that doesn't mean you can't end up with a gorgeous patio to spend your summer days.
We mentioned to make sure you have space to properly and comfortably place your patio furniture. "Comfortably" is important here. Sure, you might be able to fit a dining set and a lounge set in your backyard, but is everything cramped together? Are you able to comfortably walk from piece to piece, or do you have to climb over the sofa to get to the dining table? It seems like a given, but make sure you're only purchasing furniture that can fit comfortably in your backyard and is easily accessible to you and your guests.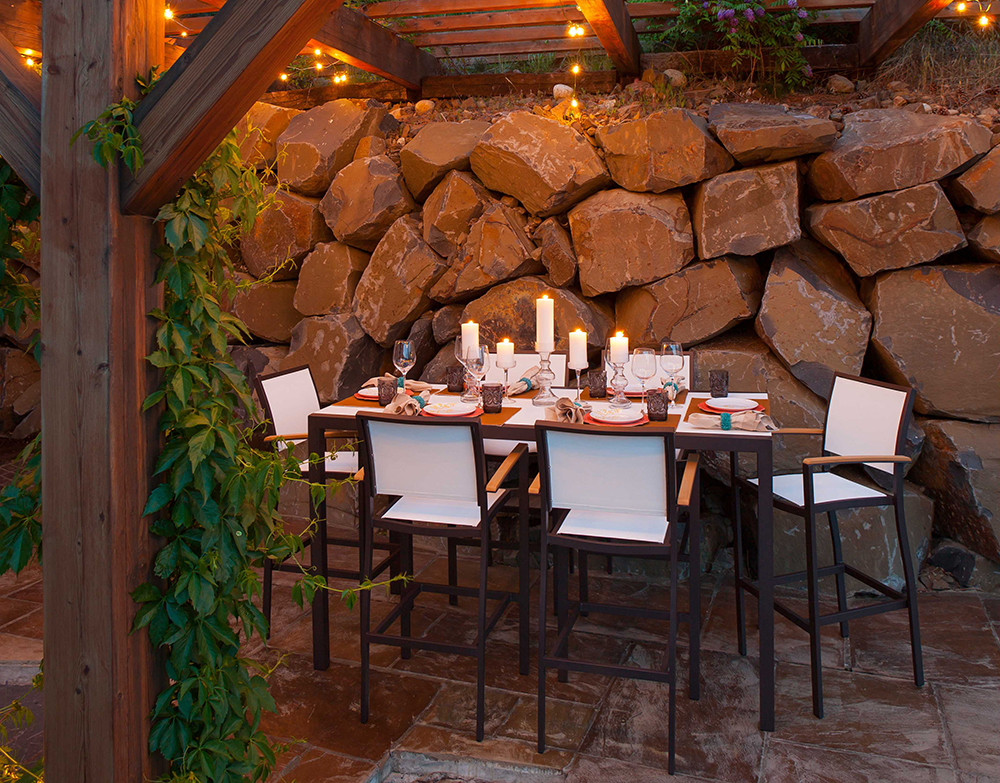 2. How do you plan to use your patio?
Why buy a large, fourteen-seat dining set when you only hang out with your five closest friends? Why buy a fire pit table if you know you'll never light a fire? It is important to consider how you want to use your patio before you can decide what kind of furniture will work best for you. If you enjoy entertaining, a dining set and/or lounge set would provide ample seating for your guests and give you a great area to serve food and visit with friends. If you prefer your patio to be your own personal oasis where you can relax and unwind by yourself, you might just need a simple bistro set and a chaise lounge where no one can bother you. Your personal lifestyle has a major impact on the type of furniture that will work best in your space. Consider what you will typically be doing with your patio, and you'll cut down on purchasing unnecessary furniture that will ultimately go unused. Instead, purchase pieces that will fit your particular needs.
3. Are you willing to spend time maintaining your furniture? How will it be stored during the off season, or when not in use?
All outdoor furniture requires at least a little upkeep, but some materials are more high maintenance than others. If you're willing to regularly clean and care for your furniture, then the possibilities are endless. If you'd prefer to do little to no maintenance, there are limited, but still beautiful, options. Regular cleaning is necessary regardless of the material, but materials like aluminum and recycled plastic require little to no additional care. Materials like wood, wrought iron, and wicker tend to age faster and react more to the outdoor elements, so they will require routine maintenance like refinishing or applying rust protector. Think about how much maintenance you are able to do every year to better choose which patio furniture material would be best in your space. For information on the different types of outdoor materials and their care instructions, check out our Outdoor Materials Buying Guide.
Another important element to this is storage. Are you able to store your patio furniture indoors when it's not in use, or during the off season? It is inevitable that the harsh outdoor elements will take a toll on your furniture, regardless of the material. The sun tends to fade patio cushions and materials like wicker, and heavy rain or humidity can damage natural wood. Do your research on the different types of material and how they will react to the weather conditions in your area. Do your best to store your patio furniture indoors when it's not in use, or purchase patio covers to protect your furniture from the elements.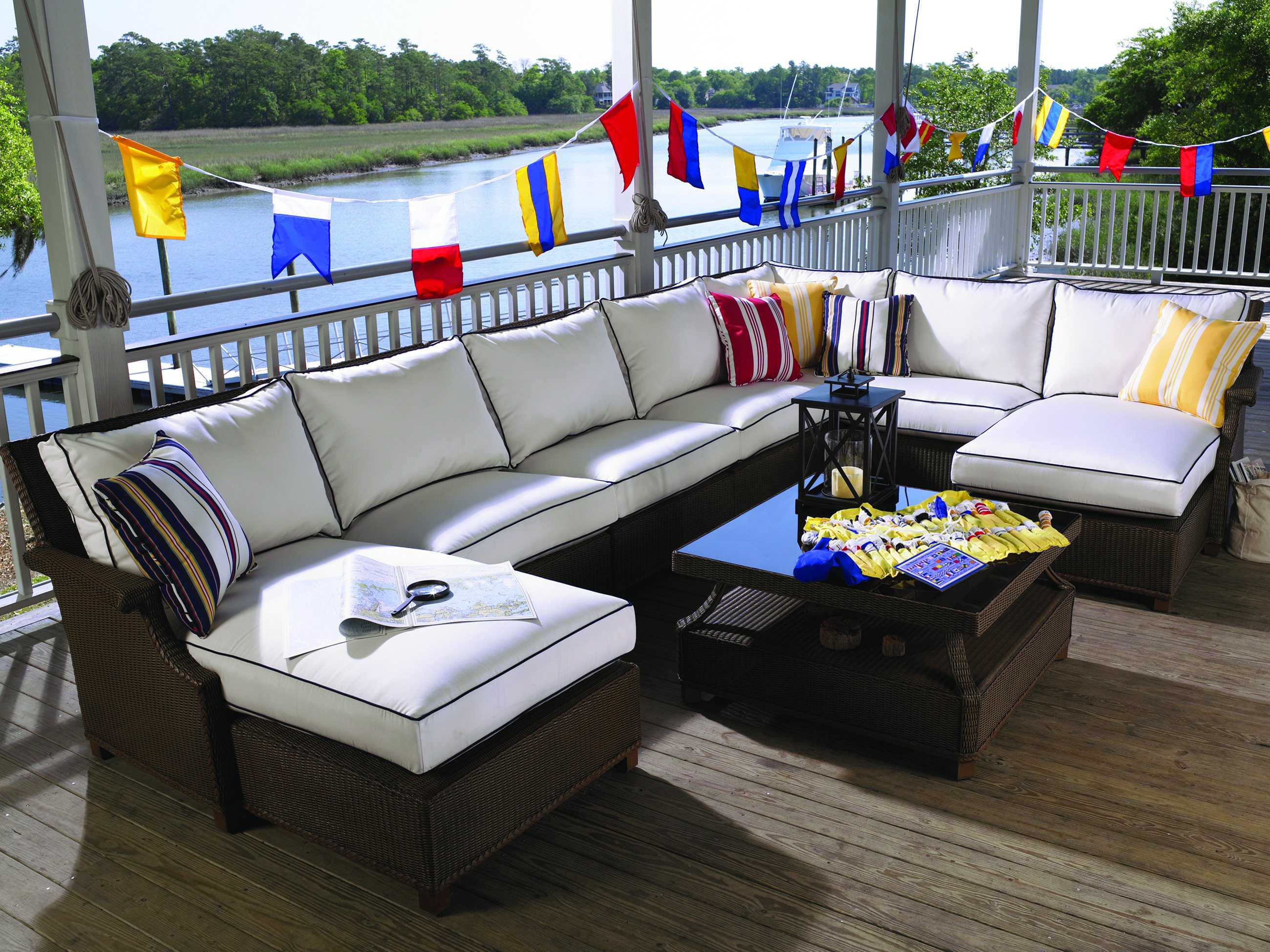 4. What look are you going for?
Now comes the fun part! What kind of style do you want for your patio? Just like you're able to customize your interior to fit with your personal style, you can design your outdoor patio to be a beautiful and functional reflection of yourself. Are you going for a casual look, or would you prefer something more modern? There are plenty of styles, in all different materials, to achieve the look you want. Mix and match different pieces to give your patio an eclectic vibe, or purchase a patio set to make your space cohesive.
Don't think you're limited to metal or wood tones, either. Some furniture, like adirondack chairs, comes in a wide variety of colors to brighten your patio. You can also opt for patio cushions, which are available in an assortment of colors and patterns to match your style. Cushions are easy to swap out, so you can change them from season to season or year to year, whenever you feel like your patio needs an upgrade!
You're Ready!
Once you ask yourself these four important questions, it's time to find the perfect patio furniture for your space. Shop PatioLiving today for a wide selection of patio furniture to get your space ready for spring!
SOURCE:
patioliving https://www.patioliving.com/buying-guides/tips-for-choosing-patio-furniture