Cannabis is on a path to becoming more mainstream, with the popularity of marijuana steadily increasing among American adults.
Many people who wouldn't have considered rolling a joint several years ago may now be interested in the activity.
If you want to upgrade your smoking experience, then you need a rolling tray set bundle. This is key.
What exactly is a rolling tray, and what does it entail? Let's look at everything you need to know about them.
What Is a Rolling Tray?
A rolling tray is a must-have item for those who roll marijuana cigarettes. It's used for rolling joints, spliffs, and blunts and provides a flat surface on which to work.
Whether you're a seasoned joint-rolling expert or just getting started, a tray is an important tool.
Types of Rolling Trays
When you're looking for a rolling tray, you have many different options to choose from. The type of material the tray is made out of will affect both its appearance and functionality. Rolling trays are typically made out of wood, glass, metal, or plastic.
Metal rolling trays are often the most durable and long-lasting of all rolling trays, as they are made from metal sheets. They come in a range of forms, including basic to more ornate designs and artwork.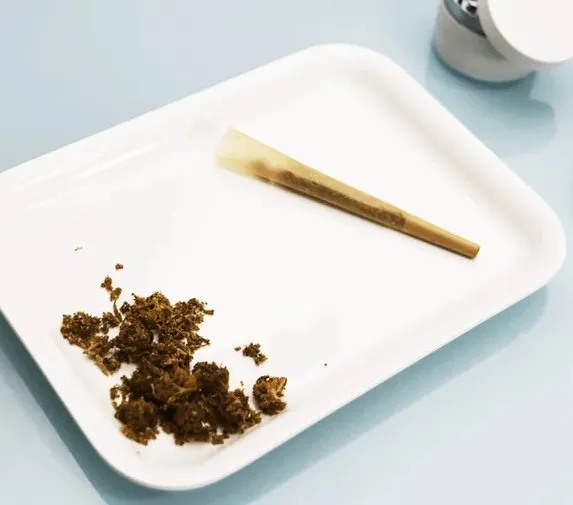 Wood trays, made of oak, acacia, bamboo or cedar, are not only popular but also complex and costly. Though they're useful and long-lasting, their heavyweight makes them difficult to transport.
The most cost-effective all-purpose trays are usually made of plastic. They aren't as long-lasting or sturdy as wood or metal, but they are simple to clean and transport when you're on the go.
Class up your collection with a glass rolling tray. These trays are made from thick, durable glass that will last for years. Some models even come encased in silicone for extra shatter resistance – perfect if you tend to be a bit more accident-prone. Keep in mind that the glass construction does make these trays much heavier than other options on the market, so they may not be as convenient for travel.
Why Do You Need a Rolling Tray?
Rolling trays enable you to roll your herbs on a flat surface. It's critical to have a clean location to crush cannabis and wrap it into the joint of your dreams.
It's crucial to have a designated location for rolling. It makes cleanup simple and rolling a pleasure. Any crumbs or papers that fall out of your grinder will be caught on your tray rather than lost on the floor.
The center of your smoking experience is your rolling tray. You'll never have to go searching for your grinder, which you claim you just misplaced. It helps to order things in the workflow, which enhances the ritual and keeps it cool.
Having a rolling tray also keeps other surfaces clean. For example, if you use tables or books to roll your cigarettes, over time they will become sticky and dirty from the residue.
What Are Rolling Trays Made Out Of?
There are a wide variety of materials used to make rolling trays, including metal, wood, bamboo, melamine, silicone, glass and plastic. Metal rolling trays tend to be affordable and durable.
Wooden trays may be beautiful in their own right, and because they are handcrafted, they can cost a bit more than metal trays.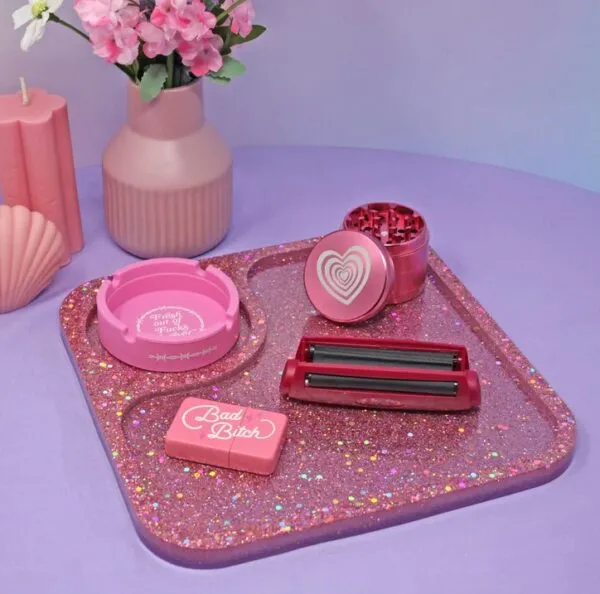 Plastic rolling trays are an affordable and lightweight choice. They may not be as durable as metal or wood trays, but they won't break as easily, making them a good option for travel.
Glass trays are quite lovely. Because some people find metal or plastic to be unpleasant, they may serve as a clean and safe surface on which to roll joints. They're also more delicate than the other choices, so they aren't ideal for carrying around.
Rolling Tray Accessories
Rolling trays not only make it easier to roll your weed, but they also come with a variety of compartments and pockets that can help you keep your weed organized. This way, you'll always know where your joint papers and filters are when you need them. Many businesses, for example, provide bespoke rolling tray printing with the option of a design on a flat rolling surface. If you're searching for something to roll your joint on but don't have a rolling tray, consider using a book or a table. However, having an organized and dedicated space to roll joints and keep all of your supplies in order is really nice. The rolling tray is ideal for people who enjoy smoking cannabis and want to do it in style.
How Much Do Rolling Trays Cost?
The cost of rolling trays varies depending on the size, material, features and style that you want. You can find a tray for as little as $5 or one for more than $100.
What to Look For When Buying a Rolling Tray
Just like when you purchase a glass pipe, your own personal preferences will come into play when selecting a rolling tray.
One of the first things you should think about is the size of your workspace. Rolling trays come in a variety of sizes, from huge to tiny. Another thing to consider is your budget. You may get great deals on low-cost alternatives, or you might spend a lot of money for a show-stopping item that amazes all of your visitors.
Another thing to consider is how much you roll. If it's a special occasion, you might go with something less elaborate. If you're rolling every day, purchasing trays with storage features may be worth it.
How important to you is the appearance of your tray? You can express your unique personality through choosing a rolling tray that fits your style. Trays come in many different looks, from utilitarian to detailed and everything in between.
Another useful question to ask yourself is if you need a tray that will accompany you on your travels or one that you can leave at home. Your answer to this question will help guide you towards the most practical option for your needs.
The Rolling Tray: An Essential Accessory For Every Smoker
If you're still questioning what a rolling tray is by the end of this article, I'll be surprised. By the time you finish reading, smoking trays will be your new best friend–always ready and waiting to help out.
Whether you're a wake-and-baker or an occasional user, having a rolling tray is essential for keeping your smoking station tidy. The days of hiding your workstation with little flecks of cannabis are long gone, and you'll never have to worry about knocking over that nearly perfect joint on the floor again.
Frequently Asked Questions
What is a rolling tray?
A rolling tray, often made of metal, plastic, or wood, is a clean, flat surface with raised sides on which to roll joints without spilling cannabis.
How do I make a rolling tray?
To make a rolling tray, all you need is a clean, flat surface with raised edges to keep your belongings from falling. Let your creativity go wild; everything can be repurposed or modified. If you'd want to order a customized rolling tray, there are numerous choices available.
Do I need a rolling tray?
A rolling tray is key if you want to roll a neat joint and not waste any weed.
What is the best rolling tray material?
The best rolling tray may be made of wood, although wooden trays are typically more expensive than ones constructed from cheaper plastic or metal. Glass trays offer the advantage of being easy to clean but heavy and frail compared to the other two options.