Cannabis cookies, weed cookies, pot cookies, however you choose to refer to them, are the sweets of choice for many cannabis edibles enthusiasts. So popular that some people seem to believe marijuana is the only food you can cook with it!
Cookies are probably one of the simplest edibles for even cannabis beginners to make. Many regular cookie recipes are easy to follow, forgiving, and adaptable to cannabis cooking. I have included many delicious, tried-and-true recipes for cannabis cookies below. But keep in mind that it is relatively simple to medicate most any cookie recipe.
That's correct, you may transform your Grandma's favorite holiday cookies into cannabis cookies by using her beloved recipe! Continue reading to learn more.
Why Are Cannabis Cookies So Popular?
It's no surprise that cannabis cookies are a big hit. I mean, who wouldn't love them?
They taste great.
They are usually easy to make.
They come in all different types and flavors to appeal to all different tastes.
You can typically make them with only one bowl. There is also little waste to clear up afterwards.
They are easy to pick up and eat.
They pack well for edibles on the go.
Cookie dough freezes well, so you can always have fresh-baked cannabis cookies on hand.
If you know someone who loves cannabis-infused edibles, homemade cookies or cookie dough make great gifts.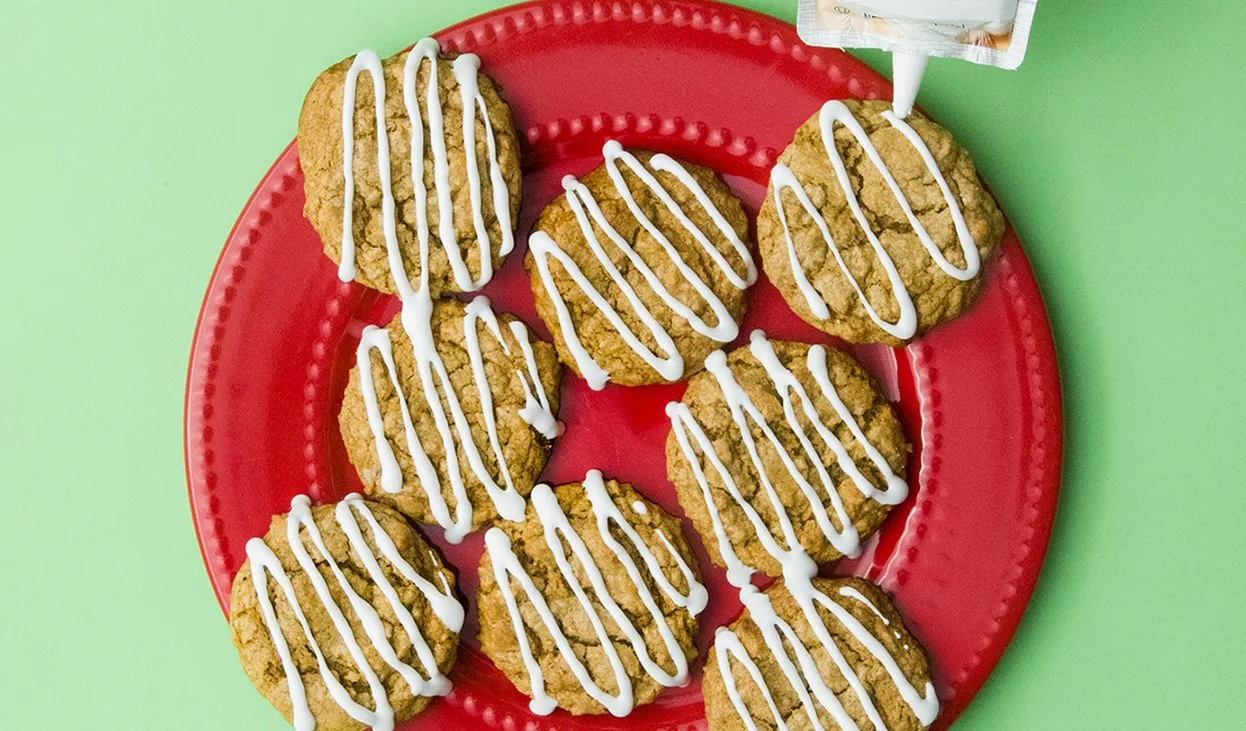 Adding Cannabis to Cookies
How to Use Cannabutter to Make Cookies
Cookies, like most other baked goods, rely on a lot of butter. You can also replace some or all of the butter in your favorite cookie recipe with marijuana butter. It's as simple as that.
This is how you can take your Grandma's favorite cookie recipe and modify it into a cannabis cookie recipe.
Using Cannabis Concentrates to Make Cookies
You can also use decarboxylized rosin, hash oil, kief or hash to medicate cannabis cookie recipes. When you use a concentrate, there is no need to Infuse the mixture ahead of time.
But I do suggest melting your concentrate into the butter. This guarantees a more uniform distribution of cannabis in your batch. This is crucial so that each cookie in your batch has the same amount of cannabis.
No issue if your recipe requires melted butter. Just combine the concentrate with the melted butter until it is completely absorbed.
However, if your recipe requires you to cream the butter and sugar together, as many cookie recipes do, be prepared ahead of time if you want to medicate it with concentrates or tinctures:
Melt and then melt the butter in the recipe instructed. A few seconds in the microwave is usually sufficient. Warm, not hot melted butter is what we're searching for.
Pour the concentrate or tincture into the heated melted butter and stir until it is completely dissolved.
To use the concentrate-infused butter in your recipe, follow the instructions for adding it. If the recipe calls for cool or solidified butter, make sure to let it cool and solidify before you start cooking.
Concentrates are also useful if you ever need to create a very concentrated edible. Simply add concentrates to your cannabutter for an instant dose boost.
Dosages for Cannabis Cookies
The issue with cannabis cookies is that you have to dose them. If you replace ALL of the butter in a recipe with infused cannabutter, for example, you may wind up with exceptionally potent cookies.
That's wonderful! To learn how to custom dose your cannabis cookie recipes, take my Free online Marijuana Edibles Dosing Course. It only takes about 10 minutes to go through the course, but you'll get more accurate and consistent results when you make cannabis cookies or any other recipe that involves marijuana!
Use my handy Heatthix.com dose calculators, which calculate all of the math for you and make changing recipes a snap! It's only $5.00!
How to Freeze Cannabis Cookies!
You bet you can freeze cannabis cookie dough!
One of the best things about cannabis cookies is that you can easily store unbaked cookie dough in the freezer for later!
You'll be shocked to learn that unbaked medicated cookie dough is also a fantastic DIY present for edibles enthusiasts. Simply include the frozen medicated cookies with the enclosed directions. You probably won't want to, and you shouldn't, eat the whole batch of cannabis cookies at once. Freezing can help with portion control significantly. It also allows you to enjoy delectable fresh hot-from-the-oven edibles whenever you want them.
You have two choices when it comes to freezing cannabis cookie dough:
Create a log out of the dough and wrap it well in plastic wrap and aluminum foil. Freeze it when completed. Cut cookies off the frozen log following the instructions in the recipe.
Make individual cookies from the cookie dough. Freeze on a baking sheet. Transfer frozen cookies to a freezer storage bag or container. When ready to bake, place frozen cookies on a baking sheet and cook as directed in the recipe.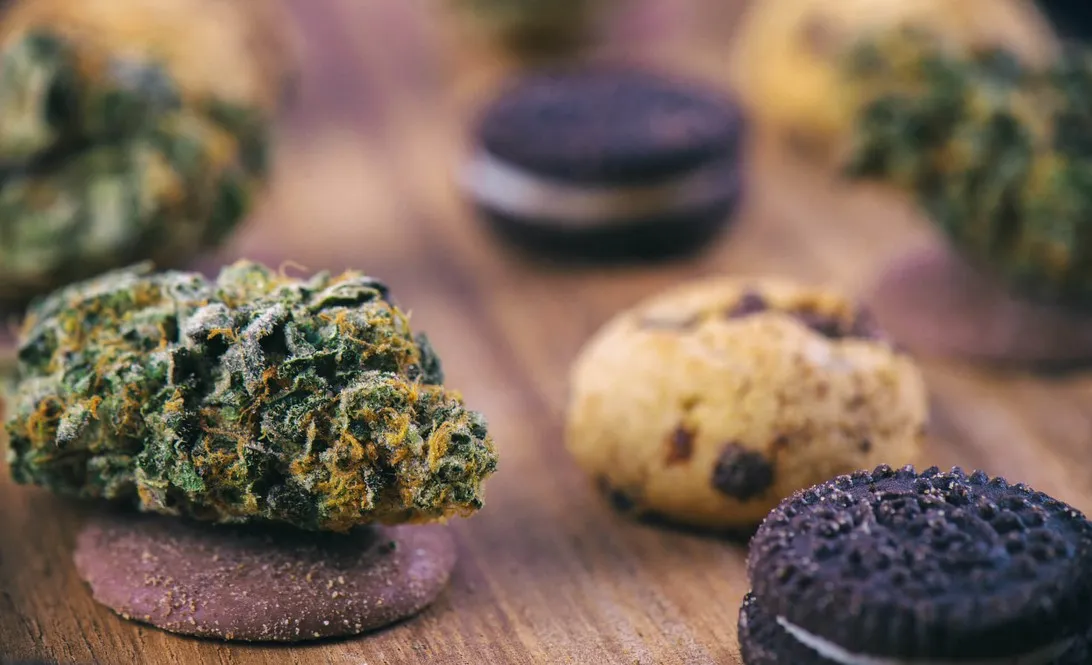 Recipes for the Best Cannabis Cookies
There's no end to the different kinds of cannabis cookies you can create. Here are a few of my personal favorites. I hope you enjoy them as well. There is something for everyone. I do update this list from time to time, so keep checking back.
Classic Cannabis Chocolate Chip Cookies
Ingredients
2 1/4 cups all-purpose flour
1 teaspoon baking soda
1 teaspoon salt
1/2 cup cannabis infused butter
1/2 cup butter
3/4 cup sugar
3/4 cup packed brown sugar I like dark but either will work
1 teaspoon vanilla extract
2 eggs large
2 cups semi-sweet chocolate chips
1 cup chopped nuts optional
Instructions
Preheat the oven to 375 degrees F.
Mix together flour, baking soda, and salt in a small bowl. Set aside.
Beat butter with an electric mixer until soft and fluffy. Add sugar, brown sugar, and vanilla and beat until well combined and creamy.
Beat in eggs, one at a time, until well combined.
Gradually beat in flour mixture until just combined, do not overbeat.
Stir in chocolate chips and nuts, if using.
Place spoonfuls of the dough on ungreased baking sheets and bake for about 10 minutes, or until golden brown. Allow to cool for 2 minutes before removing to wire racks to finish cooling.
Chocolate Chip Toffee Cannabis Cookies
Ingredients
1 1/2 cups all-purpose flour
1/2 teaspoon baking soda
1/4 teaspoon baking powder
1 teaspoon salt
6 tablespoons cannabis infused butter
3/4 cup dark brown sugar preferable dark
1/2 cup granulated sugar granulated
1 large egg large
1 1/2 teaspoons vanilla extract
1 1/2 cups chocolate chips
3/4 cup toffee chips
3/4 cup walnuts or pecans chopped, optional
Instructions
Before you begin, heat the oven to 350 degrees Fahrenheit. Then, lubricate two baking sheets with vegetable shortening or cover them in parchment paper.
In a small bowl, mix together flour, baking soda, baking powder, and salt until well combined. Set aside.
Cream together the canna-butter, kief or ground hash, and brown and granulated sugars until fully combined with an electric mixer using the paddle attachment.
Add the egg, and vanilla, and mix until just combined.
Slowly mix in the dry ingredients and stir just until combined.
Stir in the chocolate and toffee chips and nuts, if using.
Remove the dough from the refrigerator and, using a small ice cream scoop or spoon, place 2 tablespoons on one of two prepared baking sheets. Carefully press each disc to make a flattened cookie. Place cookies about 2 inches apart on the prepared baking sheet, repeating with the remaining dough.
Bake the cookies for 15 minutes or until they're lightly browned. Let them set for 5 minutes before transferring to a wire rack to cool completely. Serve warm or at room temperature. Baked cookies will stay fresh in an airtight container for up to 4 days.
Marijuana Pfeffernusse Cannabis Cookies
Ingredients
1/3 cup honey
1/3 cup granulated sugar
1/4 cup dark brown sugar
1/4 cup butter melted
1 large egg
1 egg yolk
2 cups all-purpose flour
3/4 teaspoon baking soda
1 gram decarboxylated kief finely crumbled
1 teaspoon ground cinnamon
1/2 teaspoon ground cardamom
1/2 teaspoon anise seeds
1/2 teaspoon allspice
1/4 teaspoon ground cloves
1/2 teaspoon black pepper
1/4 teaspoon salt
3/4 cup powdered sugar
Instructions
Preheat the oven to 325 degrees F. Lightly grease 2 baking sheets.
In a large mixing bowl, whisk together honey, granulated sugar and brown sugar, melted butter, egg and egg yolk until well combined.
In a separate bowl, stir together flour and remaining ingredients.
Stir the dry ingredients into wet ingredients until well blended.
Form cookies by rolling about 2 teaspoons of dough into small balls. Place on prepared baking sheets about 2-inches apart and bake for about 15 minutes or until lightly browned.
Cool slightly before rolling in a generous dusting of confectioner's sugar.
Ganja Gingerbread Cannabis Cookies
Ingredients
5 1/2 cups all-purpose flour
1 teaspoon baking soda
3/4 teaspoon salt
2 teaspoons dried ground ginger
1 tablespoon ground cinnamon
1/2 teaspoon ground nutmeg
1/2 teaspoon ground cloves
1/2 cup cannabis infused butter
1/2 cup butter
1 cup dark brown sugar
1 large egg at room temperature
1 cup unsulfured molasses
1 teaspoon vanilla extract
Tubes of store bought decorator's icing optional
Instructions
Stir together the flour, baking soda, salt, ginger, cinnamon, nutmeg, and cloves; set aside.
Use an electric mixer on medium-high speed to beat the cannabis butter, butter, brown sugar, and egg until smooth.
Beat in the molasses and vanilla.
Lower mixer speed and stir in the dry ingredients until smooth. Do not over mix. The dough should be firm but not crumbly.
Divide dough into thirds and flatten each piece into a disk and wrap in plastic. Refrigerate for at least 2 hours.
Preheat oven to 350° F.
Roll a refrigerated disk to 1/8 inch thick on a lightly floured surface.
Gather your cookie cutters and a greased baking sheet. Place the shapes on the baking sheet, making sure they're about an inch apart.
Bake for about 10 minutes or until firm to the touch. Cool slightly before transferring to a rack.
Cool completely before using decorator's icing to embellish.
The 6 Most Delicious Cannabis Cookies To Buy
As an adult, I still love cookies and milk. But now I need some cannabis in that thang. If you clicked this link, then you probably agree. So (because I love you), I've created a list of the best infused cookies to bless your milk and your tum-tum.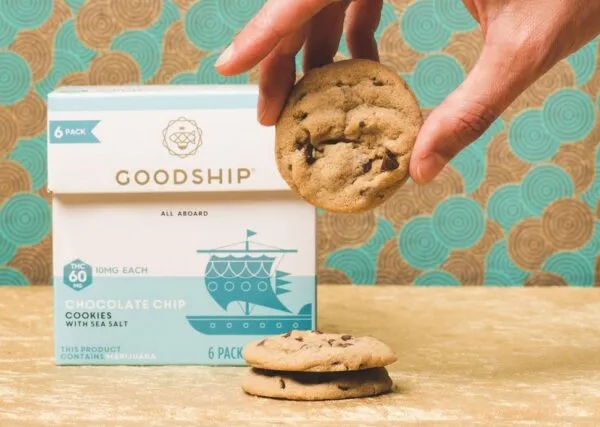 Goodship Cookies
The Goodship cookies are the best I've eaten since moving to Washington, and they're even better than other THC-infused sweets. Even if they didn't have 10 milligrams of THC, I'd stock them in my pantry because they're so delicious. Cookies come in flavors such as Chocolate Chip, Double Chocolate, and Snickerdoodle. My favorite is the Snickerdoodle, but they're all fantastic.
Green Revolution's Green Baker Cookies
Green Baker is a top-notch brand of cannabis-infused cookies from Green Revolution that will quench your hunger while taking you to Cloud 9. These 1:1 THC:CBD cookies are packaged in threes and come in the flavors Soft Cinnamon Snickerdoodle, Triple Chocolate Chip, and Chewy Chocolate Chip. Green Baker also provides a 10-cookie multi-pack—or party-pack, if you will—for the most intense cookie eaters who can't decide on a flavor.
The Apothecary Shoppe's Cookie Dough Bites
The Apothecary Shoppe in Las Vegas' chocolate chip cookie is still my favorite dessert. It was like eating my own personal edible work of art! To this day, the single most delectable cookie I've ever tasted was from The Apothecary Shoppe in Las Vegas. Their chocolate chip cookie was a slice of heaven on earth. They no longer offer this product on their menu, HOWEVER, they do sell Chocolate Cookie Dough Bites that are just as delicious. Bonus: they're available in a ten-pack, so you can blast off and never return to Earth.
Love's Oven Cookies
Love's Oven is a business in Colorado that produces concentrates and edibles. Love's Oven was mentioned several times by my fellow Leafly coworkers as their favorite infused-cookie. You can't go wrong with flavors like the classic Chocolate Chip and beloved Red Velvet, which are made with clean ingredients and taste fantastic. These cookies are worth the trip to Colorado—no matter where you're coming from—because they're so delicious.
Korova Cookies
The Leafly community's second favorite option is Korova's cannabis-infused sweets, which are their specialty. They come in a variety of tastes and forms that might be overwhelming, but Chocolate Chip will never let you down. If you're feeling daring, try dipping your cookies in icings like Mint or Peanut Butter. Korova has the most different flavors out of everyone on the list.
Journeyman Cookies
Cookies from Journyman are a Pacific Northwest classic. Triple Chocolate, Peanut Butter, and Snickerdoodle are three delectable varieties. These were the first cookies I ever ate that weren't illicitly provided to me, and I've been a fan since. They have a stoney-stone (right in the brows) for about an hour or so and cost between $3 and $6. If you're seeking for the greatest value on your journey, this is where it should come to an end…