With the holiday season of 2022 quickly approaching, more and more people are beginning to feel comfortable with openly buying cannabis and all of the gear that goes along with it. People who enjoy weed no longer have to choose between something that makes them look good and something that feels good—they can have both! This list was compiled with those indulgent customers (and the shoppers for them) in mind.
A Weed Is a Flower
The cannabis plant is stunning in its natural state with a slender stalk, beautiful palmate leaves, and delicate serrated leaflets. This time of year, many people are focused on dried jars of flowers, but the folks at Broccoli magazine published a coffee-table-worthy hardcover photo book late last year that celebrates the true beauty of this plant. The title on the cover, which is a reference to a 1911 quote by poet Ella Wheeler Wilcox, alludes to the plant's beauty 168 pages in between are filled with magical photos that showcase. Juxtaposing the delicate cannabis plant with others such as tansy, chamomile and bird of paradise, the ikebana (the Japanese art of floral arranging) creates a piece of art that is both unique and Ghostly X-Ray-like cyanotypes. Close-ups of pollinator insects momentarily at rest on bowed leaves are also featured in this collection, along with some comical shots of lady slippers and pitcher plants posed with smoking joints.
Køl 2.0 pipe
Høj, meaning "high" in Danish, is a London-based company with a focus on all-minimalist Danish design. The company's founder and Chief Executive Simon Folmann is from Denmark himself. Høj's flagship product is the Køl 2.0 pipe, an aerodynamic matte black piece made of two chunks of aluminum held together by rare earth magnets–all 6 inches of it! The pipe is split in two halves– revealing the magic innards of the pipe. The inside contains a textured surface and a vortex shape that rapidly cools the smoke (which was inspired by the scales of the mako shark according to company research). This type of surfaces catches more impurities than just a screen alone. The ships come with three screens that are all titanium-coated stainless steel. The company also sells a slightly smaller version of the pipe (Køl mini 2.0) and an equally ingenious grinder (Klip). The Klip uses stainless steel blades to cut cannabis flower, which results in a smokable consistency.
Substance mini joints
Venice, Calif.-based Sharoz Makarechi is on a mission to give back through cannabis with her new brand Substance. The art-centric line of super-small pre-rolled joints (.28 grams) comes in a flip top box and launched in April 2021. All branding for the solo smoke features social justice messaging with the goal of driving awareness and funds for these important causes. On the outside of every box is a watercolor painting by Sinclair Chase Korte, depicting either a clenched fist, peace sign, or Vulcan salute. $8.46 from each sale goes to Impact/Justice to help end mass incarceration–a number referencing the amount of time George Floyd was pinned down gasping for breath with a police officer's knee on his neck.
Concentrate storage case
Apothecarry, based in Los Angeles and founded by Whitney Beatty, was created with the idea that it is time to get rid of the old shoebox method of storing cannabis. In other words, cannabis and everything that goes along with it deserves to be stored in a better way than being hidden away at the top of a closet. The end result was a range of boxes similar to humidors,with beautifully organized interiors which helped keep jars of marijuana fresh and secure. Beatty is now trying to enhance the experience for cannabis concentrate users with the Dabney. The Dabney is a wooden case that comes with 24 glass jars, light frame concentrate jars, and an LED light board- all powered by a 9V battery. This allows for theatricality and creates sure dabbing tools are safely stored away.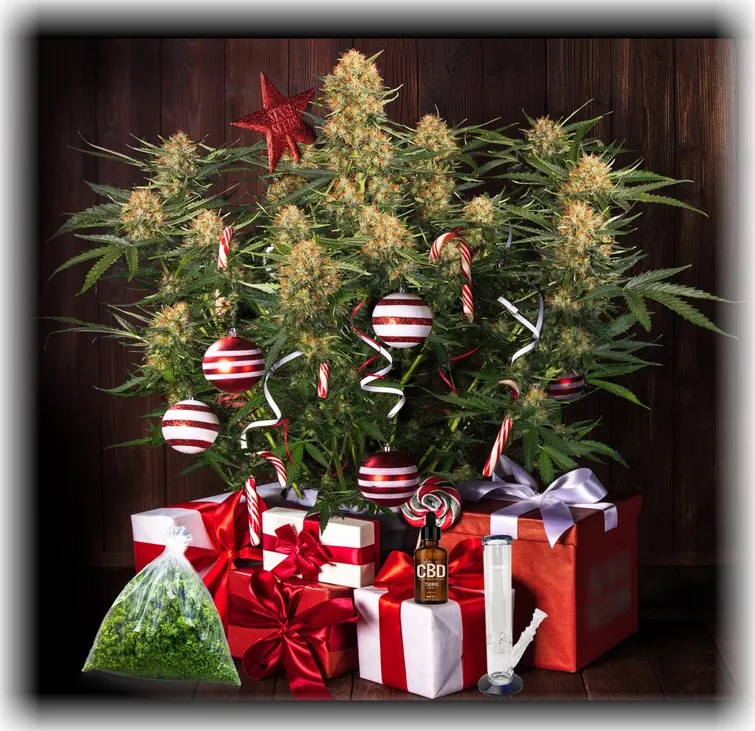 The Billie bubbler
The bubbler, which can also act as a bud vase when not being used to smoke, was thekey inspiration for this year's cannabis gift guide. It comes from Wandering Bud, at all-female team that designs and hand-makes various artsy earthenware smoking devices like bongs, pipes and chillums in their studio located in Kansas City, Mo.. The bestseller of them all is called the Billie according to founder Riley Brain. And it's easy to see why it's so popular after just one look. The Conceal pipe is approximately 7 inches tall with a glazed finish, making it difficult to tell that it's a smoking device. TheObscure side carb and bowl with four tiny holes also contribute to the disguise. Standard shipping orders need to be placed by December 15 for Christmas delivery, while expedited shipping has a deadline of December 21.
Houseplant Ashtray Set by Seth
The three-piece set was designed by ceramist Rogen to Accommodate his style of cannabis consumption. The centerpiece is a deep glazed earthenware ashtray that gives it a deep well to ash in. It also features a curved notch in the lip that serves as a temporary perch for an in-progress joint.
This beautiful, three-piece ashtray set is perfect for any smoking cigarettes enthusiast. The ashtray fits perfectly in the saucer, which can also serve as a second tray or place to store matches and lighters. The third piece of this amazing set is a tiny bud vase that add a touch of personality and charm. All together, this handsome set would look great in any living room!
Marley Natural walnut and glass bubbler
Since launching in 2016 as the "official Bob Marley cannabis brand," Marley Natural has established a reputation for offering high-quality smoking accessories. One of their most popular products is the bubbler, made from handblown borosilicate glass and sustainably grown black walnut wood. With this piece, you get the functionality of a science lab with the organic warmth and heaviness in your hand that feels luxurious, like using a high-end lighter or writing implement. The parts unscrew easily for cleaning too, which is great because something this lovely deserves to stay beautiful after being used multiple times.