What's the best way to ring in the new year with your nearest and dearest? By whipping up some weed-infused recipes, of course! Here are a few of our favorites. Whether you're staying home or hosting a party, these dishes will definitely put everyone in good spirits and provide much-needed comfort during these trying times.
The blog today has content for all levels of experience, but it's especially important for beginners to remember the marijuana mantra.
If you're excited about cooking with cannabis, this article is for you. We've compiled the top 10 best cannabis recipes to tantalize your taste buds. From classics like brownies and cookies to more unique creations like CBD avocado toast, there's something for everyone. The process is similar to preparing any other food or drink, so we'll provide a step-by-step guide for each recipe. Once you get comfortable in the kitchen, it'll be time for the most exciting part: hands-on cooking! Let's get started!
Overview of Cannabis Edibles For NYE
These weed varieties tend to take longer to kicked in than smoking, vaping, and other methods of consumption. It might take an hour or so for the full effects to be felt. However, consuming weed in this manner is more delicious and can last six to eight hours once the user starts feeling the effects. These products can either be homemade or from commercial producers.
If you want to experience the psychoactive benefits of THC, like euphoria or relaxation, you have to be careful not to overdo it. Too much THC can result in some uncomfortable side effects, like feeling anxious or paranoid. But once you get the hang of making CBD and THC-infused foods and drinks at home, they can be enjoyable for both recreational and medicinal purposes.
Best Weed Edible Recipes For NYE
There are many benefits to cooking your own weed edibles at home, including customizability and cost-effectiveness. However, depending on your situation, it may be simpler and faster to order cannabis items online. If you do choose to prepare your own CBD- or THC-based foods, here are the top 10 best recipes from our list:
Special Brownies
The name "edible weed" suggests that this dessert is made with a special ingredient. And it is! Cannabis oil brownies are a popular dessert among weed lovers. To make them at home, you need a box of brownie mix that calls for cannabis oil, and 4 to 18 grams of weed extracts. Start by heating a saucepan with oil, then add the weed. cook at medium to low temperatures for 30 minutes. If it's cooked, follow the instructions on the brownie box, and enjoy your special brownies!
Space Cake
If you're looking to elevate your cake-baking game, why not try infusing it with CBD or THC? This recipe is becoming increasingly popular, as it allows people to customize their experience. Feel free to experiment with different flavors of cake – the sky's the limit! Just make sure to follow these basic cooking guidelines:
Melt 225 grams of butter in your microwave
Remove the melted butter and place it into a mixing bowl
Add 8 grams of cannabis and stir them together over the medium heat
Add 200 grams of sugar and blend using a whisk
Add 225 grams of the flour mixture, 160 milliliters of milk, two eggs, one teaspoon baking soda, and ½ teaspoon of salt
Whisk all the ingredients together until the batter has a smooth consistency
You can add extra ingredients if you want and stir them into the batter until well blended
Pour the batter into a cake mold and bake until golden brown
Use a toothpick to determine when the cake is ready
Once it's ready, you can cut the cake for 12 servings
Weed Ice Cream
You read that right–weed ice cream! It may sound strange, but this is the perfect recipe for a summer evening. Just follow the steps below and enjoy your weedice cream in no time:
Heat 18 ounces of cream in a saucepan until it boils
Heat ¼ stick of butter, 75 grams of sugar, and a pinch of salt together in a separate pan
Place ¼ ounce of weed into the melted butter
Whisk the cream into the butter mixture
Peel a few bananas and mash them in a bowl
Add some honey and rum to the bananas
Combine the banana mixture with the cream and butter
Pour the ingredients into a large container and freeze for a few hours
Once it's frozen, you can then enjoy your weed ice cream!
Weed Oreos
Who wouldn't love a scrumptious Oreo cookie? No longer are you confined to treats sold at run-of-the-mill convenience stores. With this weed Oreo recipe, you can now bake your own! Plus, it's easy to follow along–just read these simple directions:
Mix Oreo Cookies 'n Creme with 500 ml of milk in a bowl and stir well
Remove the white centers of cookies and leave only the dark outsides
Mix white centers with Cookies 'n Cream and add 30 grams of cannabis butter
Take the dark Oreo cookie outsides and place them face down
Take a scoop of Cookies 'n Cream and cannabis butter
Mix and use it to glue the two outsides back together
Place the weed Oreos in the freezer for about 14 minutes
Once the cookies stay together as a whole, you're ready to enjoy them!
Cannabis Butter
If you're looking for a cheesy way of consuming weed edibles, this is the recipe for you! Preparing cannabis butter at home is easy and only requires 1 lb of butter and ½ ounce of ground up weed. Just melt the butter in a saucepan, add the marijuana, and let it simmer on the stove until the mixture becomes greenish from the cannabis. Then pour it through a strainer to remove any large pieces before chilling in your fridge.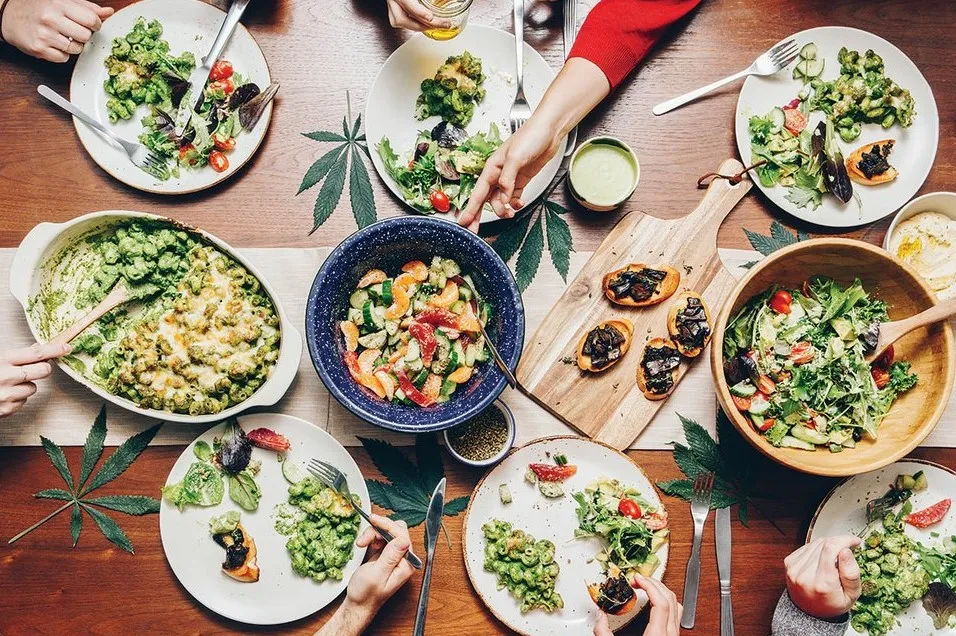 No-Bake Canna Cookies
Some weed smokers feel that their meal is not complete without some canna cookies. This dessert can easily be prepared at home, and it is delicious like other marijuana recipes mentioned earlier. To begin, you need a saucepan to mix 2 cups of sugar, ½ cup of cannabutter, four tablespoons of cocoa, and ½ cup of milk. Afterwards, add 1 cup of peanut butter, 3 cups of oatmeal, and one tablespoon of vanilla to the bowl. After you've spooned together all the ingredients, use a teaspoon to drop blobs of batter onto a waxed cookie sheet. Let them cool and enjoy your delicious canna cookies!
Magic Pancakes
Why settle for regular pancakes when you could have magical ones instead? They're simple to make, all you need is some cannabis milk and the following ingredients: 150 grams flour, two teaspoons sugar, one baking soda, ½ teaspoon salt, and one egg. Just cook them like you would any other pancake!
Cannabis Peanut Butter Cookies
If you're looking for a delicious cannabis-infused treat, look no further than the weed peanut butter cookie. This homemade product is perfect for anyone who wants to enjoy the taste of weed in a delectable form. Plus, it's easy to make! Just follow these simple steps:
Preheat your oven to 375 degrees
Mix ½ cup of peanut butter and ½ cup of melted weed butter
Add ½ cup of flour, ½ cup of brown sugar, ½ cup of sugar, ½ teaspoon of baking soda, one teaspoon of vanilla, ½ teaspoon of baking powder, and one egg.
Make small bowls of the mixture and place them on a greased cookie sheet.
Bake for at least 10 minutes and let it cool before enjoying your cookies
5-Minute Chocolate Mug Cake
You'll be able to enjoy this delicious and easy 5-minute Mug Cake in no time! Perfect for anyone looking to add cannabis into their food. Use the simple instructions below to prepare it:
Mix 4 tablespoons of flour, two tablespoons of cocoa, four tablespoons of sugar, three tablespoons of chocolate chips, and one egg into your mug
You can add some amount of vanilla extract and mix them all.
Fold in 3 tablespoons of cannabutter.
Heat the mixture in a microwave for at least five minutes.
Enjoy your mug cake!
Marijuana Tea
Did you know that marijuana drinks are also a type of weed edible? Marijuana tea is one of the most consumed varieties today because of its health benefits, like elevating mood and reducing pain. Luckily, it's easy to make! Just boiling water and pour over the plant material. Steep for around an hour and a half before adding 1 tablespoon of either regular or cannabutter. And then… enjoy your cup o' tea!
Why Is It Cheaper to Make Edibles at Home?
As you know, buying weed edibles from a retail store can be more expensive than preparing homemade treats. It doesn't apply in all circumstances, but that price gouging is the only way businesses earn profits from their sales.
Edibles such as cookies and gummies typically come with a steeper price tag. If you're living on a tight budget, it's probably not the best idea to spend $20 on a box of space cakes. A more sensible solution would be to whip up your edibles at home—that way, you can take advantage of the cheaper cost of ingredients. Not to mention, this also gives you the opportunity to get creative in the kitchen and experiment with recipes that sound most appetizing to your taste buds!
Onset Time and Duration of Weed Edible Effects
Weed products have shown to be helpful for a number ailments including stress, pain, inflammation, anxiety and depression. The effects of each individual product differ based on intensity levels and how long it takes to take effect or subside. Weed edibles are interesting in that they can take several hours before users feel any effects but those effects could also last for an prolonged period of time.
When you consume an edible, your digestive system breaks it down before the cannabinoids have a chance to take effect. However, how long this process takes all depends on the type of edible you ate, the dosage, your metabolism, whether or not your stomach was empty at the time, and also your weed tolerance. All of these factors play a crucial role in determining how long it will be until you feel any effects from eating an edible. Generally, it takes at least one hour for cannabis edibles to take effect. After ingestion, you have to wait a few extra minutes before increasing your dose in order to experience the full effects. It's important to remember that the effects of cannabis can vary from person to person, given different factors such as weight and metabolism. Once you do experience the effects of cannabis, they could last for several hours.