Order Cannabis Bath Products At Toronto's Best Online Dispensary
Do you want to be enveloped in the soothing and therapeutic power of cannabis? With GasDank, it's easier than ever! Our products are infused with marijuana oil or bath bombs that will help ease your aches and pains while providing a luxurious bathing experience. So go ahead – take a plunge into relaxation with our premium quality cannabis-infused items.
If you're looking for a calming and relaxed experience, CBD bath bombs are the perfect way to relax with cannabis. Here we'll discuss all of the wonderful benefits of using these infused bath products as well as how to make them at home!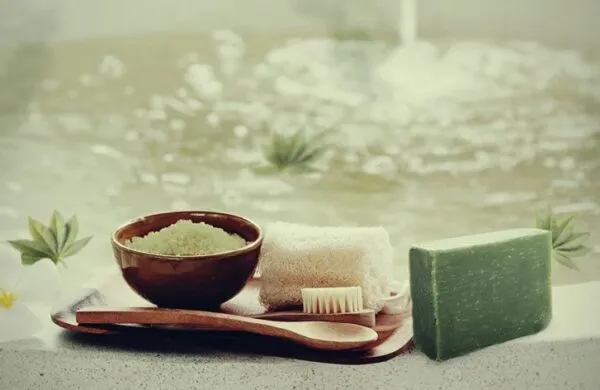 CBD has truly come into its own in recent years, with CBD bath bombs leading the charge. Everyone from average consumers to experts have raved about how great they feel after taking a warm soak filled with their favorite CBD product.
What are Cannabis-Infused Bath Products?
Our bath products are designed for simple and straightforward use: pour them into your bath. We offer a range of CBD, THC or combined-infused bath bombs, salts and oils that bring luxurious relaxation. Using Cannabis Delivery GasDank all customers at age off 19 and over can order the best marijuana infused bath products to relax.
Cannabis Bath Salts
Cannabis bath salts offer a cost-effective alternative to store-bought products, allowing you to customize the ingredients as you please. Not only are they ideal for treating minor aches and pains but did you know that cannabis bath salts can do so much more?
As the legalization of cannabis continues to spread, even those who don't smoke it are turning to cannabinoid-infused health and wellness products. From lotions and cream all the way up to balms, potions, and bath salts – you can find a plethora of options if you're looking for an alternative option that still brings the benefits found with marijuana use without having to light up. Don't be intimidated by this new trend – try it out today!
If you're in a state with cannabis regulations, full-spectrum bath salts are obtainable at almost every dispensary. If not, don't fret – you can still locate CBD-fortified bath salts wherever hemp-based CBD oils are available – think smoke shops and more! And no need to hunt around: these calming compounds will be displayed prominently for anyone wanting to unwind with an elegant soak. 
Although cannabis bath salts may not be inexpensive, the cost is undoubtedly worth it because of their excellent stress-relieving and pain-alleviating results. It's like taking a lavish epsom salt soak with additional bonuses!
What is CBD Bath Soap?
Beyond simply providing an innovative way to cleanse your body, THC and/or CBD-infused bath salts offer invigorating and medicinal advantages. As soon as these cannabinoids are absorbed through the skin they stimulate the CB2 receptors in your system, sparking off a chain of reactions which activate the endocannabinoid system; thereby granting you numerous health benefits!
Unwind and indulge in a calming, cannabis-infused bath to reduce stress levels, relax your muscles and provide relief from pain. Furthermore, for those who experience allergies or autoimmune conditions such as inflammatory bowel disease or arthritis; topicals made of cannabis may be beneficial in decreasing inflammation.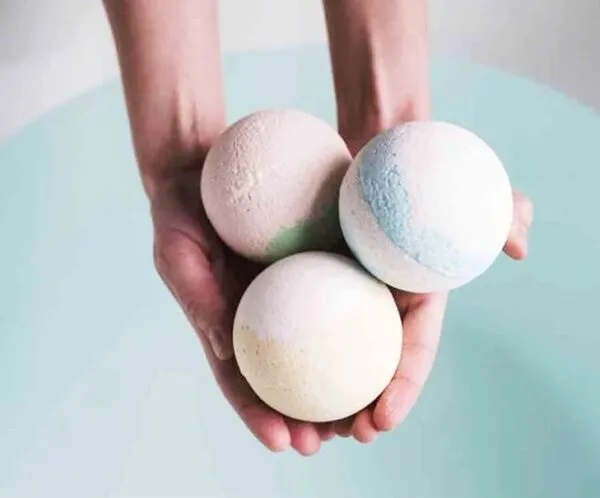 Treat yourself to a luxurious, extended soak in cannabis-infused water for ultimate relaxation. Not only can it help reduce the symptoms of common skin conditions such as eczema and dandruff, but it also helps with menstrual cramps or headaches! Plus – this naturally hydrating bath will not just make you look younger, but improve your blood flow and elasticity too!
What is CBD Soap?
Our range of CBD soaps are delicately crafted with a hemp extract-infused formula, plant oils and butters along with aromatic scents or essential oils for extra satisfaction. Experience the perfect way to unwind after a tiring day as our vegan friendly and animal cruelty free formula will leave you feeling relaxed yet energized! As more people switch from traditional baths to CBD soap they soon realize its many benefits leading them to choose it over other alternatives.
Harvested from hemp plants grown locally in the United States, CBD has demonstrated remarkable and beneficial properties – from calming dry skin to controlling redness and inflammation. Additionally, it can reduce sebaceous gland function and anxiety levels – making it a perfect self-care treatment for anyone!
Our Bath & Body Collection offers a plethora of CBD-infused options for your relaxation needs—from bar soaps to shampoos and bath bombs. Enhance your bathing routine with more than just hemp aromas; indulge in the uplifting benefits of luxurious aromatherapy while simultaneously nourishing yourself through CBD's healing properties. Make sure to explore our range today and find out which product is perfect for you!
How Can CBD Soap Help Your Self-Care Routine?
CBD-infused soap provides an abundance of advantages for your skin and body. Natural soaps are teeming with minerals, vitamins and compounds the human body needs to stay healthy.
Although the full extent of CBD's topical benefits is still being investigated, we do know that products like CBD soap can potentially offer anti-inflammatory, anti-acne, and even anti-aging properties. This remarkable ingredient has powerful potential for improving skin health and combatting blemishes.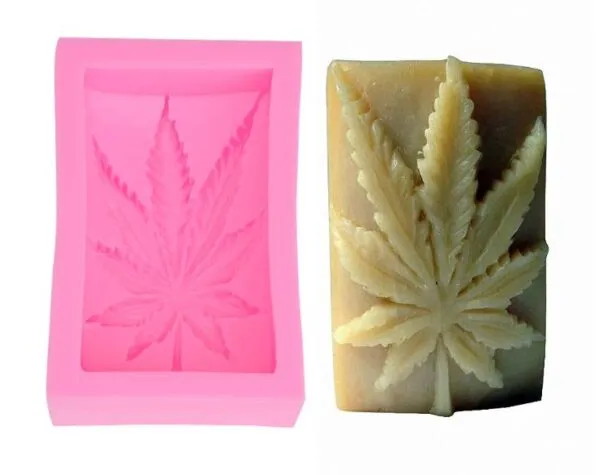 On top of the numerous advantages derived from CBD and plant-based soap, aromatherapy has been proven to improve sleep quality, relieve pain, reduce discomfort, and much more.
By bringing together the advantages of plant-based products, cannabidiol, and aromatherapy in our luxurious bath product, we've created a heavenly addition to anyone's daily self-care ritual. When it comes to pampering yourself, there are many ways you can do so– including with this delightful scent! Make sure you make use of this special tool when necessary for maximum relaxation. Order cannabis bath products at our Toronto's Best Online Dispensary.
Why are CBD Bath Bombs so popular? 
By blending the calming aromatics of lavender, chamomile and eucalyptus with CBD's natural pain-relieving benefits, bath bombs infused with CBD provide a unique experience that is both soothing and therapeutic. This powerful combination appeals equally to those suffering from chronic pain as well as populations interested in overall wellbeing.
Bridging the gap between health and beauty, CBD has become an instant sensation within wellness spaces. As such, its incorporation into mainstream bath products like oils, salts and bombs is a welcome step in furthering holistic self-care for all.
The Skin Benefits of CBD
With cannabis topicals arriving at retail markets, patients will have another convenient way of addressing localized pain as well as improving skin conditions, such as psoriasis and dermatitis. In addition to providing relaxation and pain relief, CBD pain products also promote healthy, vibrant-looking skin and could also potentially have anti-ageing effects.
Will Cannabis-Infused Bath Products Produce a High?
In a word, no. Bath products that contain THC will not induce any psychoactive effects or the feeling of being "high." To produce those types of effects on your body, THC must penetrate your skin and make its way into the bloodstream.
In contrast, CBD is able to interact with the numerous CB2 receptors located over the human body, providing natural pain and relaxation relief.
What does CBD Feel Like?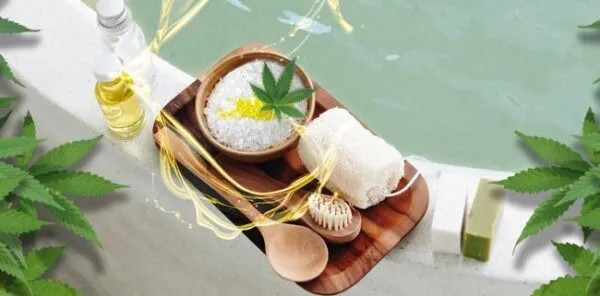 CBD's skin absorption after dissolution is quick and efficient, however adding essential oils such as mint or camphor could work to instantly reduce discomfort. Moreover, incorporating lavender may enhance CBD's calming effects while diminishing the inflammation of your skin.
Although it may take upwards of 30 minutes for CBD to reach its full potential, utilizing CBD-infused bath products can detoxify and hydrate skin while potentially helping to restore the natural oil balance. This makes these types of products suitable for those with both dry and oily complexions alike.
CBD bath products offer long-lasting relief of several hours, and they are the ideal solution when you need broad-spectrum topical relief. To extend coverage beyond your bath time routine, pair these products with other forms of CBD such as tincture or vaporizer for 360° extended care inside and out. If you have localized areas that require extra attention, CBD topicals can be used following a soak to target those spots specifically.
When shopping for hemp products, it is essential to purchase from a company that you can trust. Look for brands that are open about where they source their hemp and how their products are made – the more transparent the better! This will help ensure your peace of mind when making purchases. Buy cannabis bath topicals at our GasDank online cannabis dispensary!
Before you commit to a particular CBD brand, make sure to properly assess their reputation. This involves investigating whether they have acquired any FDA warning letters; the FDA does not guarantee that all over-the-counter CBD products are effective and safe, but can take action against brands who violate regulations by sending out warning letters.
What Can CBD Bath Products Help With?
Combining the widely known therapeutic benefits of a hot bath with CBD is an ideal combination that will result in cumulative healing and long-lasting relaxation.
Cannabis-infused bath products are renowned for their therapeutic properties, and have been known to aid in the alleviation of many ailments. Such conditions include:
Localized pain relief

Menstrual cramps

Arthritic joints

Muscle aches and soreness

Back pain

Stress

Psoriasis

Itching
How to use CBD bath bombs
Unfamiliar with using a CBD-infused bath bomb? If so, turn your showering session into the best bathing experience of your life by following these steps! Enjoy an optimal soaking and pampering ritual that will leave you feeling relaxed and refreshed.
 Fill your bath with warm water.

Drop CBD bath bomb in the bath. It will begin to fizz.

Move and swirl the CBD bath bomb around the bath.

Finally, in your bath bomb has dissolved run it under the bath tap.
After your CBD infused bath bomb has settled, take a snapshot to preserve the memory of its colorful swirls. Then, relax and enjoy all that it has to offer! Buy cannabis CBD bath products at our Toronto's Best Online Dispensary today.
Safety and side effects
Although the World Health Organization deems CBD to be generally safe, some consumers may encounter certain adverse effects. These include:
fatigue

diarrhea

changes in appetite

changes in weight
Before attempting CBD, it is strongly recommended that you consult with your doctor or clinician to ensure safety, particularly if you are taking any medications as there may be potential interactions.
Exercise caution when trying out any novel topical product. Review the ingredients to ensure that you are not prone to an allergic reaction and be mindful of essential oils which can provoke skin sensitivity.
If you're concerned that a CBD bath bomb could harm your vagina and/or urethra, it's best to use hypoallergenic products which have been tested by dermatologists and are free of fragrances. This will ensure maximum safety for your delicate areas. Buy CBD bath products at our Toronto's Best Online Dispensary to relax.
How to Choose the Best CBD Bath Product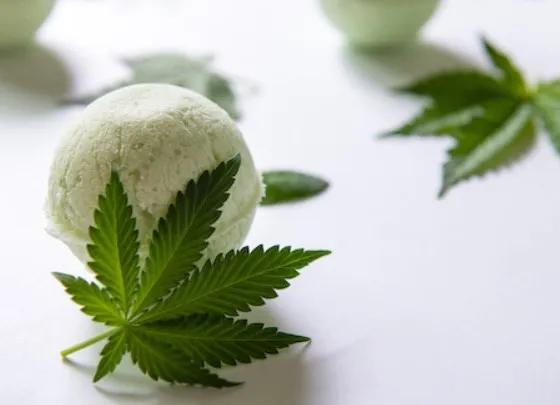 CBD-infused bath products offer a plethora of choices, from luxurious CBD bath bombs to lose CBD salts. By simply adding these items to a warm soak and allowing the skin to absorb them, users can experience whole body relief provided by cannabidiol. With an array of various aromas available, many products unite cannabidiol with restorative essential oils and minerals for even greater effects! For example, combining magnesium with those same salted baths may be doubly beneficial in easing tired muscles. Nevertheless each product creates its own blissful moment as it offers unparalleled solace through the power of CBD.
How to shop for CBD bath bombs
To ensure you are purchasing a safe and reliable product, it is wise to search for one that has an up-to-date and thorough Certificate of Analysis (COA) from a respectable third-party laboratory. At the very least, the COA should indicate:
The amount of CBD in the product: Ensure that this is consistent with the information listed on the label.

The amount of THC in the product: All federally permissible products must contain less than 0.3% THC in accordance with the law.

The date the testing was performed: Some companies supply a Certificate of Analysis (COA) for every product batch, while other companies may only offer an individual COA sample.

Whether the product passes contaminant testing: To ensure the quality of the product, examine it for heavy metals, pesticides and molds. Additionally, if a solvent-based extraction process was utilized to create this item, then solvent testing should be done as well.
CBD Bath Products by Trusted Reviews
At GasDank, we abide by a stringent procedure before permitting each brand. Additionally, our CBD advocates conduct extensive tests on every single CBD bath product and create an in-depth review to accompany the results. 
Where to Buy CBD Bath Products?
If seeking out CBD bath products is the answer to your skincare and wellbeing needs, then let our reviews guide you in selecting from all of the top-notch options available. Alternatively, explore our other approved CBD goods to construct a comprehensive routine that addresses discomfort with various approaches.
FAQ
Will a CBD bath bomb show up on a drug test?
To provide maximum assurance and safety, the CBD bath bombs on our list contain minor or no THC levels. Gas-Dank website guarantees that third-party labs affirm it has 0.0% THC presence in its products. Although unlikely to happen when using these cannabidiol bath bombs, a positive drug test could still be possible.
Are CBD bath bombs good for pain relief?
CBD bath bombs are often designed for a calming evening, rather than as part of a daily CBD regimen. Despite this, like other topical products created with cannabidiol (CBD), they may still be beneficial in reducing pain symptoms. If you're searching for the most effective outcomes from CBD, you should look into specialized topicals such as creams and balms or take CBD orally by way of capsules or oil drops.
How often can you safely use CBD bath bombs?
Although some CBD bath bombs may contain ingredients that could be irritating or cause an allergic reaction to certain people, it's a good practice not to soak for longer than fifteen minutes. If you find your skin is well-suited for the product, then by all means use it more frequently! Be sure to take necessary precautions and keep in mind that everyone's complexion reacts differently even if they have similar skin types.