The issues within the legal cannabis industry are much more severe than those surrounding a lack of banking access.
For a long time now, cryptocurrency has been seen as the perfect solution to banking problems that have gotten a lot of public attention in the U.S. cannabis industry.
Even though an increasing amount of states legalized cannabis for medical or recreational use, it is still federally illegal. The resultant regulatory ambiguity has kept the industry from accessing the traditional financial system effectively. Dispensaries and other cannabis companies are usually avoided by federal banks and credit card networks, making them store cash on-site – which makes them a more common target for robberies – or pay high fees to bank at state-chartered institutions.
Some view crypto as the natural solution for cannabis companies. If these companies were to accept payment in cryptocurrency and store it in digital wallets, they would theoretically avoid issues that come with dealing with physical cash (although this could lead to a new crop of thieves targeting those who possess high amounts of cryptocurrency).
However, theory and reality do not always match.
Because crypto is volatile and has high transaction costs, it's not a good replacement for cash. This deters many potential cannabis business owners from learning how to set up a digital wallet and accept crypto payments. For those who go ahead with it anyway, they're still subject to censorship: In 2018 Coinbase shut down an account of a medical marijuana dispensary in Washington due to federal regulations. There was no comment given by Coinbase on whether its policy has changed since then when requested.
Not only would solving the cannabis industry's banking problems be outside of cryptocurrency's capabilities but there are a number other issues that it can't legally fix. These include high taxes, slim profit margins and black market competition.
Although it can't fix everything, many people in the cannabis industry have found that crypto is helpful.

Culture match
The cannabis industry and the crypto sector have a long-standing history together, firstly shaking hands in the Silk Road. For those who don't know, the Silk Road was founded by "Dread Pirate Roberts" (a.k.a Ross Ulbricht) and served as a modern day black market trade center where people could use cryptocurrency to buy/sell forbidden items such as Marijuana–which at that time period was illegalized in many states throughout America.
The cannabis industry and the Web3 sector have both made great progress in the last ten years since Ulbricht's arrest and the shutdown of Silk Road.
Since the 2018 Farm Bill removed hemp from the definition of marijuana, several states have legalized cannabis. In 2021, Colorado collected $423 million in tax revenue from marijuana sales – an increase from the $387 million collected in 2020.
Last month, three Democratic Senators introduced the Cannabis Administration & Opportunity Act in order to remove cannabis from the list of Controlled Substances. If passed, this act would also exonerate people with nonviolent federal cannabis offenses as well as put a excise tax on cannabis products.
Crypto growth
The cryptocurrency market has seen significant growth in recent years, rising from $10 billion at the end of 2013 to over $1 trillion today. This increased attention from national governments and heads of state – who are now sanctioning digital currencies and launching their own versions – shows that crypto is no longer flying under the radar.
Amazing changes have taken place in both industries which has had an impact on the crypto-cannabis community since the days of Silk Road.
For example, the Crypto Cannabis Club is a social club for cannabis consumers that uses NFTs as membership cards, according to CEO Ryan Hunter. He went on to say that the vision for this community was to have it cover both virtual and real-life experiences. Hunter has experience in this field, having built a 10-acre cannabis farm at one point in his life.
For example, the cannabis-themed social club in the Voxels metaverse, Crypto Cannabis Club has partnered with over 30 providers of various cannabis products and accessories. This was done so they could start a utility program that would give discounts to members of their community.
Cory Mitchell, the operations manager at Flower Power Botanicals in Fort Collins, Colorado told CoinDesk that by accepting cryptocurrency he was able to partner with and sponsor Colorado State University. This made them the first cannabis industry partner and allowed them to reach out to the college community in a more effective way than their competitors.
Amy Deneson, a crypto and cannabis marketing specialist, has also observed an increasing number of hotels and hospitality services in legal markets accepting payments made with cryptocurrencies. These same businesses are also offering psychedelic experiences.
cannabis and crypto were once underestimated by many, but not they are two of the most popular groups. These days, the two industries often go hand-in-hand. Some cannabis companies are decentralized autonomous organizations (like the People's DAO) that help black, indigenous, and other people of color in the industry get funding. Other businesses use NFTs to support their community.
Even small, local black market dealers are becoming more and more open to accepting crypto currency.
One person located in New York City revealed to CoinDesk that he would be willing to open a wallet to receive cryptocurrency if there was enough demand, though there would be an increased fee for those paying with crypto rather than cash. Another individual from California–who no longer distributes marijuana but does distribute other substances–stated that he commonly accept crypto as payment.
Cannabis and cryptocurrency have both made waves in recent years, and the two industries have begun to overlap. It is now impossible to ignore the substantial changes that this has caused in culture.
More money, more problems
Bob Solomon, a professor of law at the University of California, Irvine and co-chairman of the UCI Center for the Study of Cannabis told CoinDesk that lack of access to banking is far from being the cannabis industry's most well-known issue. Rather, he said that experts agree that the tax burden is currently its biggest concern.
Because cannabis is still illegal federally, the industry is subject to Section 280E of the tax code, which means cannabis businesses must pay taxes without deducting the usual business expenses, making profit margins very small.
Henry Baskerville, the owner of Colorado-based law firm Fortis Law Partners, told CoinDesk that cannabis companies pay around a 70% tax rate due to Section 280E tax requirements, compared with the average corporate tax rate of 20%.
Baskerville stated that many people enter the cannabis industry with unrealistic hopes of becoming wealthy overnight, without accounting for things like taxes and smaller profit margins.
Consumers aren't the only ones who suffer from intense taxes – local dispensaries do too. This tax burden makes it difficult for legal dispensaries to compete with black market sales.
With already small profit margins and cash-flow issues, the volatility of crypto creates an even bigger risk for cannabis companies. Khurshid Khoja, co-chairman for policy at the National Cannabis Industry Association, told CoinDesk that retailers knowledgeable in crypto are still worried about the instability of crypto markets and possible tax implications of receiving crypto payments.
Khoja said that people are hesitant to accept cryptocurrency payments because they fear the instability of the currency's value.
Income taxes and access to affordable loans are both significant problems that cannabis companies face. It's difficult for people who want to open a dispensary or become growers because they can't find loans with fair interest rates.
Dave Rodman, a lawyer based out of Colorado who specializes in both crypto and cannabis law, stated: "Credit is definitely a pain point. There are loans that can be taken out if you have 'hard money', which is to say, large assets or real estate."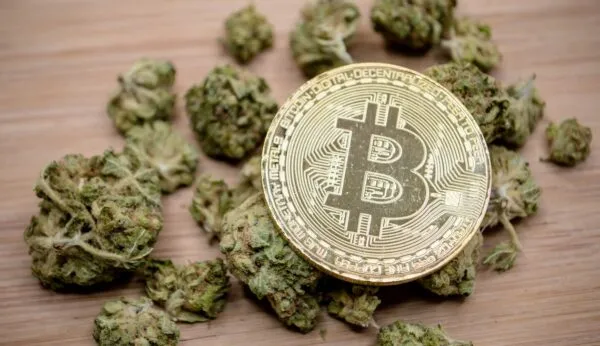 An unfair stigma?
Some experts, including Baskerville, have also suggested that because both the cannabis and crypto industries exist outside of normal regulations, there is a potential that working together could be stigmatized.
"Cannabis is already under intense scrutiny and deemed as a potential breeding ground for criminal activity, theft, etc.," Baskerville said. "Adding another controversial industry like cryptocurrency has the possibility of compounding these problems."
Khoja told CoinDesk that he believes the public's lingering fear of cryptocurrency is a result of the Silk Road case and how it led people to believe crypto was primarily used for illegal drug purchases.
Khoja stated, looking shamefaced," that he used to tell his clients many years ago to only break one federal law at a time. He continued by saying that, as an advocate for these businesses, he wanted there to be no implication that they were participating in any other illegal drug activity."
"In reality, the blockchain is the perfect way for any regulating agency to keep track of legal cannabis businesses funded by illegal drug money," Khoja continued. "We can see where the money came from and which wallets it went into."
A cannabis dispensary's perspective
Some cannabis companies that are new to cryptocurrency have started using instant crypto-to-cash payment platforms in order to protect against volatility and stay compliant with regulations.
Mitchell of Flower Power stated to CoinDesk that he was not content with accepting crypto payments until the dispensary became involved with ForumPay, a crypto payments platform. "In the cannabis industry, compliance is essential, and I didn't want to chance entering an ambiguous area by myself without the assistance of an organization that specialized in this field," Mitchell said.
Mitchell said that ForumPay has been an excellent alternative to credit card processors because it is so easy for the dispensary's staff to use. Even though crypto payments are only used by a small number of Flower Power's customers, Mitchell said that this type of payment has been gradually increasing.
"I believe that it has attracted new customers and sparked a lot of people's curiosity about crypto," Mitchell said. "At the very least, it's another option for our customers who don't always want to carry cash. ForumPay doesn't charge a monthly subscription, so there's no downside to offering this utility to our base."
The SAFE Banking Act
The SAFE Banking Act would let banks provide banking services to legal cannabis businesses without the risk of facing penalties from federal regulators. If passed, this could resolve many of the industry's issues with accessing banking.
The bill has received support from members of both political parties and has been passed by the House on multiple occasions. However, it has not fared as well in the Senate, with most recent attempt happening in July.
Even though Baskerville believes SAFE wouldn't fix each of the industry's issues, it would still create a considerable impact. In fact, some cannabis business owners dish out close to $2,000 monthly only to have a bank account.
If the SAFE Banking Act passes, some people have said that banks could still charge high fees and have other problems.
Khoja stated that SAFE wouldn't necessitate banks to provide business lending, and it might not cause banks to lower the fees they charge cannabis businesses.
Even though the SAFE Banking Act won't solve all of the cannabis industry's many issues, it is still a step in progress.
Mitchell said that in order to be successful in the cannabis industry, you have to use banking. This includes payroll, taxes, operating expenses/utilities, etc. He also said that depending on crypto rather than fiat would present too many "what-ifs" and hinder success.
Blockchain technology for supply-chain management
Although crypto may not be the cure-all for all of the issues plaguing the cannabis industry, Sundie Seefried, CEO and president of Safe Harbor Financial (which has provided cannabis banking services since 2015 and processed more than $14 billion), is hopeful about blockchain technology's potential implementation.
A regulator informed Seefried that crypto and cannabis work well together because blockchain technology allows for the tracing of money from cannabis plants. Safe Harbor now has to utilize multiple different sources to track the progress of their cannabis plants, which unfortunately raises the chances of something being unaccounted for.
"Start to finish, I know that's a legitimate plant right from the get-go, if we do this correctly," Seefried said in regards to the potential of integrating blockchain technology.
Ben Bartlett, who is both a member of the city council of Berkeley, Calif. and works as a crypto lawyer, believes that blockchain technology can play an important role in the cannabis industry by helping to create compliant supply chains and tracking ownership.
"Cannabis companies often face problems with friction, authentication, and redundancy. However, using blockchain technology can create transparency and reduce much of the friction in the industry," he said. Smart contracts that are executed automatically could lead to even more efficiency gains in this rapidly growing sector.