Cannabis may be consumed in a variety of ways, some of which do not involve ingesting the plant itself. Hemp candles are rapidly becoming popular, allowing cannabis users to enjoy the aroma they're used to hiding: marijuana's danky goodness.
With the decreasing stigma surrounding cannabis, people are now more openly admitting to their use of weed. In the past, smokers felt they had to keep it a secret, but as attitudes become more accepting, the smell is becoming desired rather than scorned.
What are
Hemp Candles

?

Hemp Candles are, as their name suggests, candles that have been infused with different parts of the cannabis plant. These include cannabis essential oil and distilled oil, which work together to create a candle that smells like weed and gives off an overall 'weed smoking' experience.

Cannabis candles may appear to get you high, but this is only an illusion—lighting a fragranced cannabis candle will not have any significant psychoactive effects.

However, because of the terpenes present, the candle may be releasing some of cannabis' restorative qualities. Furthermore, if you burn a candle together with a smoke session, the combined effects of the candle's terpene oils and THC may enhance your overall experience.
Hemp Candles for Aromatherapy
Hemp candles, while lacking in psychoactive effect, have strong aromatherapeutic properties that provide a slew of advantages to the user.
Aromatherapy is the utilization of essential oils to improve your mood, increase energy levels, relax you, relieve pain and more. Cannabis essential oil does this by especially well by balancing the mind and body.
The three most frequently used terpenes in Hemp candles are myrcene, limonene, and linalool.
Today, myrcene is most frequently found in cannabis plants. The terpene aids in the relaxation and soothing of nerves, as it may be found in thyme, mangoes, and lemongrass. Strains such as Grandaddy Purple, OG Kush, and Blue Dream include myrcene. It's used to promote sleep by reducing anxiety and pain while also promoting restfulness.
The terpene limonene is found in many popular citrus fruits, like lemons and oranges. It's easily recognizable for its orange color and fruity, citrusy smell. Limonene is also used in a lot of natural cleaning products and cosmetics because it helps fight bacteria growth. In addition, limonene-rich strains are ideal for stress relief, mood elevation, and relaxation; some examples include Wedding Cake, MAC,, and Berry White.
Linalool is a beautiful-smelling terpene in the cannabis plant, making it ideal for candle infusing. The terpene, known for its floral, clean scent, is found in lavender and some spices. It's present in strains like Amnesia Haze or Lavender Kush, both of which are excellent for alleviating anxiety and stress.
With all of the different terpenes in cannabis, you are bound to find a candle scent that you love. floral or woodsy scents. If you want to relax, there are candles for that too. Or if you need an energetic boost, those types of candles exist as well!
Hemp Candles
If you're looking for an option to cannabis candles that don't produce the tell-tale smell, hemp candles might be a better solution.
Cannabis essential oil can be used to infuse candles, but Hemp Candles use CBD oil instead. CBD is a great natural remedy for reducing pain, controlling muscle spasms, and soothing depression and anxiety.
Cannabis essential oils are more likely to have a plant odor, but Hemp Candles take a backseat to terpene distilled oil and other essential oils that may be blended into your candle. Overall, this gives for a milder fragrance and experience.
Hemp candles are a wonderful way to complement the aromatherapeutic effects that already exist in the candle, as well as help you relax or unwind if burned correctly.
You may still obtain some of the advantages of cannabidiol when you light that wick, even though you are not eating hemp candles. When individuals breathed in CBD-enriched essential oils, their blood pressure was reduced in a 2017 research. After breathing in the aromas, participants reported feeling calmer and more awake.
Hemp Candles, like any other cannabinoid-based product, face many restrictions. While more study is needed on the long-term impact of Hemp Candles, current evidence suggests that benefits may be transferred when breathed in.
Hemp Candles
Cannabis candles may also be created from the hemp plant. Hemp candle oil is infused rather than cannabis essential oil or CBD oil, as well as terpenes. Unlike Hemp Candles, hemp candles do not always have a cannabis odor, but some of them can depending on the terpenes present.
Hemp candles burn more slowly, making them last longer and saving you money in the long run. They may also be easier to find since hemp is federally legal while cannabis and CBD's legality depend on the region.
How to Find Cannabis/CBD/Hemp Candles
Another option for individuals seeking a more natural alternative to conventional air fresheners is the use of CBD or hemp candles, which have a wide range of applications and can be used in numerous ways. Again, these products may be limited by your needs and location, but you'll have the greatest success with CBD or hemp candles if you want aromatherapeutic effects without the actual aroma of cannabis.
One of the benefits of cannabis candles is that there are an increasing number of small businesses specializing in this market. While local dispensaries might offer some wellness products, buying from an online retailer will allow you to be more specific with your purchase. You can find plenty of options on sites like Etsy or Depop–just make sure to read the reviews before making a purchase!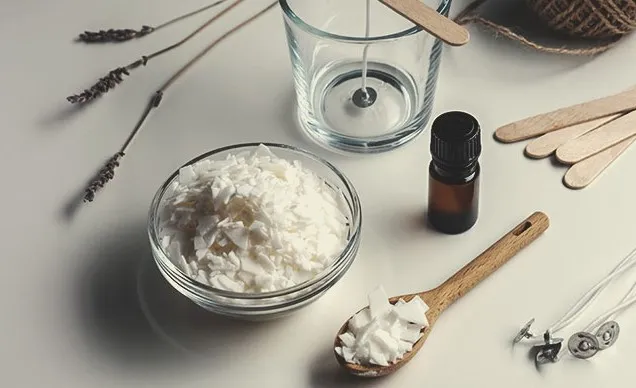 How to Make Your Own Cannabis Candle
Lastly, if you want to get truly creative, you can always make your own cannabis-, CBD-, or hemp-scented candle at home. They're easy to make – just like a regular candle – but with the added bonus of marijuana's natural benefits! All you need is some essential oil from the cannabis plant, hemp seed oil, and/or CBD oil. Or go wild and add all three for an unforgettable experience!
Here is our favorite method to make your own cannabis candle at home. You can get very inventive once you've mastered the fundamentals:
Materials:
14 or 16 oz. mason jar (for your candle to reside in)
Hemp wick (or other type of wick)
1 lb. of soy candle wax
Hot glue gun
Card stock
Double boiler
Food thermometer
1 oz. of hemp seed oil (or cannabis essential oil, or CBD oil)
Steps:
The double boiler (or a glass bowl on top of a saucepan with boiling water) is perfect for melting soy candle wax on medium-low heat.
The double boiler (or a glass bowl on top of a saucepan with boiling water if you don't have one) is the best way to melt soy candle wax. Set it to medium-low heat.
While that's melting, use your hot glue gun to attach the wick to the very center of the bottom of your mason jar. The more, the merrier; it may always be trimmed down later.
While the wax melts, cut your card stock to a size slightly larger than the jar. Cut a hole in the middle of your card stock and suspend the wick during pouring to help it go more smoothly.
Allow your wax to cool until it reaches approximately 120-140 degrees Fahrenheit. After that, stir in your hemp seed/cannabis/CBD oil.
Pour your wax/oil mixture into the jar until it reaches ½ inch from the top of the jar. Allow to cool completely, and then trim your wick down to be about ½ inch in length.
Final Thoughts
Hemp Candles are highly fragrant and infused items that are difficult to resist. They're packed with beneficial components that not only make you feel wonderful, but also smell fantastic.
Did you know that by adding a CBD candle to your home, you can increase the overall positive vibe in your living space? Regardless of if you make your own candles or purchase them, taking this small step can have a profound impact on the feeling in your house.