It's not easy to live in constant agony. Finding an option to assist you manage your suffering, whether it's muscular spasms, persistent pain, arthritis, or day-to-day stiffness, may make all the difference. CBD oil has recently become popular as a tool for alleviating pain. While CBD does not yet have FDA approval for pain relief, doctors are becoming increasingly interested in it.
The major advantage of CBD oil over traditional cannabis is that it does not cause "highs." CBD has now reached the United States and many other countries throughout the world, as a result of recent changes to hemp legislation in the 2018 U.S. Farm Bill. If there are so many various CBD oils available, how do you choose which one is best for pain?
In this piece, we look at the realistic medical possibilities of CBD oil for pain relief. We also examine the top 10 CBD companies on our list based on CBD oil quality, efficacy, customer service, and price. Finally, we explain the things to consider when selecting a CBD business. Let's get going!
CBD Oil for Pain Relief
According to numerous studies, marijuana (i.e., medical cannabis) is sometimes used as a substitute for prescription painkillers. Marijuana's intoxicating effects, on the other hand, make it undesirable for many consumers.
Cannabidiol (CBD), a nonintoxicating component of cannabis, is used to treat pain and other ailments. We discovered that certain of the best CBD oils may aid in the management of pain.
However, it is vital to inform readers that CBD oil isn't FDA-approved for the treatment of pain. This implies that the items and claims made in this post are not under FDA evaluation as well. As a result, they should not be used as a diagnosis, therapy, cure, or preventative measure for any disease or medical condition.
Even before the FDA's study, CBD has generated a tremendous amount of attention. You've undoubtedly seen prominent coverage on top news networks or read about CBD being recommended by high-profile individuals for a variety of pain alleviation.
Charlotte's Web, a "worldleading CBD brand by market share" known for its hemp-based cannabinoid products, has been discussed in the media on sites including CNN and The Wall Street Journal, as well as in prominent fitness publications such as Men's Health.
So, is there any proof that CBD oil can help with pain or is it all based on puffery and little substance?
How Effective is CBD Oil for Pain?
According to several studies, CBD is becoming increasingly popular as a pain medication. Some users feel that CBD helps them achieve greater pain relief, while others claim it allows them to decrease their intake of prescription opioids.
Cannabis contains more than 60 compounds (called cannabinoids), many of which are antioxidants that may lower your risk of cancer. These chemicals prevent the growth of new blood vessels, stimulate cell death, and slow tumor growth. Cannabidiol is one such component. It has been found to impact ECS receptors in the immune system, according to experts. These receptors respond to chemical messengers when they are activated and ensure that our cells react to stimuli. The anti-inflammatory effect helps reduce pain and edema (swelling).
What Do the Studies Say?
The number of CBD's influence in pain research is increasing. Transdermal CBD was investigated in rats with induced arthritis by the European Journal of Pain. In the study published in the journal, the researchers applied CBD gels to the rats' painful joints at four different dosages (0.6, 3.1, 6.2, and 62.3mg) per day for four days straight (0).
The study found that CBD gel reduced joint edema by a remarkable degree. Surprisingly, the 62.3mg dose was no more effective than the 6.2mg dose.
Meanwhile, in Frontiers in Immunology in 2018, researchers gave CBD to mice. After ten days of CBD treatment, the researchers discovered a reduction in inflammatory biomarkers. They used a mouse model that reproduces the effects of multiple sclerosis on the body.
According to scientific studies, cannabidiol has no effect on experimental pain intensity. According to science, however, cannabidiol makes pain seem less unpleasant.
According to a research published at Syracuse University in 2021, CBD has been discovered in prior studies to have pain-relieving effects. It's significant because it's the first clinical CBD study to look at its impact on people. Cannabidiol reduced experimental pain intensity without making pain seem any better, according to the findings.
The study found that CBD improved pain symptoms when compared with a placebo, making it the most significant finding of the research. I'm hoping this is just the beginning and that more people will start to accept CBD as a pain-relieving medication.
Using CBD Oil for Pain
CBD oil is usually taken sublingually (under the tongue) and held for up to 60 seconds before being swallowed. This way, a portion of the CBD gets incorporated into your system via the sublingual route.
However, when it comes to CBD oil for pain, many people advocate applying it directly to the source of suffering. It's probable that a topical infused with cannabidiol has a greater rate of absorption than oil. Whether or not this is true, frequent massage users notice a quicker result whether they apply CBD topically into their skin.
The amount of skin needed to apply CBD for the first time is very little. You must ensure that it does not cause an adverse reaction. Gradually increase the quantity you use until you reach the 'therapeutic minimal dosage,' which refers to a situation where you utilize the tiniest quantity feasible in order to achieve the desired result.
Benefits of CBD Oil – Anecdotal Evidence
Despite the fact that CBD oil is not yet a FDA-approved pain medication, it has helped millions of people throughout the world. Here are some comments from readers on how CBD assists with day-to-day suffering:
Please be informed that there is no specific test, scan, or anything similar that determines whether or not you should use CBD oil for pain. Due to its illegality in the United States, doctors are unable to administer it (pain reliever) until marijuana or its cannabinoids have been approved by the FDA as an analgesic.
If you answered yes to all of these questions, CBD oil from a reputable manufacturer is an option for you.
CBD Oil for Pain: Side Effects
While CBD is as safe as it gets, there are certain drawbacks to consider. When compared to the severe negative effects of prescription opioids and other painkillers, these adverse effects are quite minor.
The most essential source of information on CBD's negative effects is Epidiolex (a FDA-approved cannabidiol drug used to treat two rare forms of epilepsy). Cannabidiol users may experience the following side effects as a result of their usage:
Somnolence
Decreased appetite
Diarrhea
Transaminase elevations
Fatigue, malaise, and asthenia
Rash
Insomnia, sleep disorder, and poor-quality sleep
Infections
CBD has been linked to a variety of additional health benefits, including enhanced heart health and lower inflammation. Furthermore, it is claimed that CBD use may have an impact on liver function; however, this has yet to be demonstrated. CBD is also believed to interact with enzymatic pathways and drug metabolism. As a result, discuss CBD usage with your doctor prior to combining it with other medicines for pain.
Now that you've learned more about CBD oil for pain, let's take a look at the best producers and their product lines! Don't want to go through our list of the finest CBD oils? View a brief overview of our top recommendations via our video CBD oil countdown instead!
Full Spectrum CBD Oil
Full Spectrum CBD Oil include all of the compounds found in cannabis in naturally occurring quantities, including traces of tetrahydrocannabinol. That's the cannabinoid responsible for producing marijuana's euphoric effects.
CBD oils are most often taken sublingually, or beneath the tongue. Shake the bottle well before using the provided dropper to measure out an appropriate dose. Place it under your tongue and keep it there for 30 seconds to a minute so that it can fully absorb. Then swallow it down.
You may also consume CBD oil in food and beverages, but because it is absorbed during digestion, you may not notice any effects until later.
PureKana Natural CBD Oil
PureKana is a firm dedicated to providing CBD oil drops to customers in the United States. It's been featured in Forbes and High Times, and it frequently wins awards for being one of the best CBD Oil companies on the market.
PureKana CBD oil is a highly pure form of cannabidiol since to its own CO2 extraction method, which yields an almost pure CBD oil. PureKana Natural CBD Oil is a flavorless, dietary, and nutritional supplement that promotes health and vitality.
It may help with persistent pain, recovery from exercise-induced inflammation, edema reduction, support healthy daily stresses and sleep cycles.
Premium Jane CBD Oil
One of our team members compared the effectiveness of Jane's 1000 mg full-spectrum oral tincture to other CBD oils on the market. He observed that it was especially beneficial for his chronic back pain, with the effects seeming to last longer than those from other manufacturers.
Fab CBD Premium Oil Drops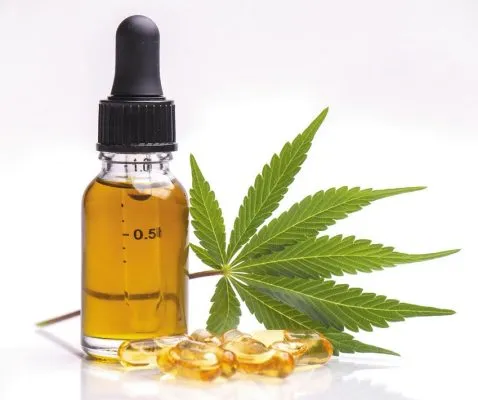 Fahrenheit has established a fashionable brand that stands for a new way of life. The look of the website, as well as the brand name labeling and text, all scream modern and cool, according to Fahrenheit's website.
Despite its lower rank than PureKana, FAB CBD has earned a good reputation for offering a high-quality product. All of its CBD products are manufactured from organically cultivated Colorado hemp that has been pressure extracted with pressurized CO2 technology. This is an indication that it has not spared any expense in creating a high-quality oil because all of its CBD goods are made using organically grown Colorado hemp produced under pressure CO2 extraction.
In terms of pricing, its oils are somewhat less costly than those of many of its competitors. It now includes a 2400mg CBD oil in addition to its previous 1000mg CBD oil. Find out more about this firm's items in our FAB CBD review.
CBDPure
CBDPure hasn't received the same level of media attention as companies like PureKana and Premium Jane. CBDPure, on the other hand, makes one of the finest CBD oils accessible.
Furthermore, it utilizes third-party lab testing to guarantee that each batch is correctly labeled. All of the company's items are free of any dangerous germs or parasites that may have developed in the raw hemp material as bacteria or fungus. The major drawbacks include a lack of product variety and a CBD oil concentration limit of 1000mg. Even so, the high standard more than compensates for this.
Joy Organics CBD
There are many CBD oil brands to consider when choosing the best one. Joy Organics has established itself as one of the finest in the industry, which is why it has been placed at #8 on our list of the top CBD oils. In recent years, what began as a family-owned small business has grown into a CBD behemoth.
Joy Organics has retail locations in Austin, Texas; Deer Park, Illinois; and Fort Collins, Colorado, in addition to its large online presence.
MoonCactus believes in variety. It maintains that all of its items are chemical-free and have high absorption rates, which is why it provides a wide range of products, ranging from CBD oils to CBD bath bombs to energy drinks.
Unlike many other businesses, Odonel Organics specializes in high-quality broad-spectrum solutions. The nicest thing about this firm is that it offers a 30-day money refund guarantee on its items.
Choosing the Best CBD for Pain: Things to Consider
The main problem currently facing the CBD industry is a lack of regulation. Regulating has long been known as the "Wild West." Epidiolex, a pharmaceutical drug containing CBD, has received FDA approval for use in a variety of disorders. With a license, industrial hemp with a 0.3 percent THC concentration by weight may be produced and cultivated with less than 0.3 percent THC by dry weight if it contains less than 0.
Cannabidiol (CBD) is classified as a Schedule I controlled substance by the US Controlled Substances Act, like any other cannabinoid. While several states have created CBD regulations, many jurisdictions are void of rules.
Because of this, anybody or business may start and run a CBD company without any restrictions. As a result, there are a slew of fraudulent and hazardous products on the market.
There have been a number of studies documenting issues with mislabeling and impurities. Missouri Medicine just published one, which discovered that the FDA tested 102 items that claimed to contain a particular CBD concentration. Of the 18 pills with less than 80% of what was stated on the label, 18 were included. Another 38 had more than 120% of the stated CBD content, while just over half of the products contained measurable amounts of THC.
Clients must be aware of exactly what they're receiving when they buy a hemp-derived CBD product. We recommend checking out one of the companies we've mentioned above if you want to learn more about CBD.
Hemp Source
The botanical origins of hemp are important. Any firm that does not source its hemp from a legitimate farm in the United States or the European Union should be avoided. In basic words, Kentucky and Colorado have earned a reputation for producing some of the finest hemp in the world.
Extraction Method
Avoid any business that uses butane extraction since its goods may still contain hazardous residual solvents. Some well-known businesses utilize food-grade ethanol extraction, which they claim results in a greater concentration of terpenes and cannabinoids in their products.
Ethanol is a Class 3 solvent, which makes it less dangerous than Classes 1 and 2 solvents as defined by the FDA. However, at 5,000 ppm ethanol, there is no need. Some CBD consumers, on the other hand, are unwilling to use any chemicals. This is where supercritical CO2 extraction comes in handy. Because it leaves no residual chemicals behind, it's known as the "gold standard" of extraction techniques. As a result of this method, you'll get a cleaner and more pure product.
Third-Party Lab Reports
A firm must submit its CBD products for third-party testing and display its COAs on its public website. A COA documents the quantity of cannabinoids, ensuring you don't receive stuck with the type of goods stated in the FDA study above. It provides you peace of mind that your THC concentration is low and displays how much solvent, pesticide, and other contaminants remain in your product. Please double-check that the COAs are current and that the testing was done by a reputable laboratory not affiliated with the brand.
Ingredients
Look at the product's label as well. Is there a full list of components on the label? Is the CBD oil excessively weighted down with "additives"? We recommend utilizing CBD oils that just contain hemp extract, a carrier oil like MCT oil, and perhaps some natural flavorings.
Type of CBD
The quantity of cannabinoids, terpenes, and other compounds in whole-spectrum CBD products is a matter of personal choice. Some people enjoy full-spectrum CBD items since they include a wide range of cannabinoids, terpenes, and other components. The entourage effect is said to occur as a result of this mixture. This phrase refers to the notion that hemp chemicals operate better together rather than alone.
CBD comes in a variety of forms, including broad-spectrum CBD and cannabidiol. Cannabidiol isolate is the most pure form of CBD available, as it doesn't include any additional cannabinoids other than cannabidiol during extraction. After the primary extraction process, some firms add terpenes to their products.
Brand Reputation
Finally, consider a firm's reputation in the neighborhood. Every day, it seems that there is a new CBD firm popping up. If at all possible, purchase your items from a business with years of expertise. Look up client feedback to see how effectively the company solves issues.