Blueberry Diesel cannabis is a THC-rich variety with a fruity blueberry flavor and a long-lasting, pleasant high. It also has an uplifting mental boost and a revitalizing effervescence that's great for a morning smoke.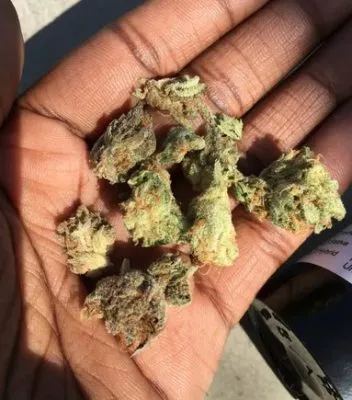 Blueberry Diesel is a popular strain for cannabis aficionados searching for something new. Blueberry Diesel may be the answer if marijuana users are looking for something exciting. When it comes to strength, flavor, and effects, this hybrid hits all of the marks, including its renowned energizing effervescence.
Many smokers praise this strain for being the ideal way to begin their day. Its energy-giving high not only eliminates tiredness, but it also raises and encourages a cheerful mood.
Cannabis users have also claimed that this variety provides a long-lasting high. It's ideal for people seeking a boost in the afternoon hours who don't want to be up all night. Some describe it as having a soft comedown and claim it has no harsh edge.
It also has a high concentration of fragrant terpenes, making it an ideal choice for a pleasant-smelling smoke.
What is the Blueberry Diesel Strain?
Blueberry Diesel weed is created by combining indica-dominant Blueberry with sativa-leaning NYC Diesel. Blueberry gives some of its aromatic strength, while NYC Diesel contributes to the pleasant and euphoric effects of Blueberry Diesel.
Blueberry Diesel is a wonderful strain for daytime consumption due to its combination of qualities. It has an energy boost that relieves tiredness, sharpens attention, and reduces pain and anxiety. According to fans of this strain, it does not cause hunger. This is great for people who want to avoid the munchies.
Blueberry Diesel is a delight to smoke, with wonderful scent and taste. Its delicious flavor is praised by Blueberry Diesel devotees. The complex flavor impressions that this strain offers are noted by both fans and detractors. They also claim that unlike certain other strains, Blueberry Diesel does not leave behind a harsh aftertaste.
Users of this strain note that it also promotes creativity. Blueberry Diesel makes it simple for people with artistic talents to be inspired, since it is devoid of the couch-lock adverse effect. Many users have reported that this strain eliminates the fuzzy-headed sensation produced by other strains and, as a result, they may complete routine daily activities without feeling tired.
The ability of 'Blueberry Diesel' to reduce drowsiness and heighten attention makes it ideal for socializing. Users may still participate in lively discussion while feeling calm, comfortable, and happy.
Aroma
Blueberry Diesel is a potent, pungent scent that users generally describe as pleasant and smooth. This strain is composed of delicious, ripe blueberries with a significant amount of delectable, ripe blueberries. Many individuals can also detect small traces of cotton candy, a cool pine smell, and a hint of diesel on the exhale.
Flavor
Despite its enticing scent, most consumers adore Blueberry Diesel's taste. It has all of the depth that one could desire in a cannabis strain, with none of the harshness. Many individuals remark on its blueberry flavor, which is apparent on the first draw.
While the scent may seem weak at first, it grows stronger as you get closer to the middle. The flavor journey begins with tart citrus and fruit notes before moving on to fresh pine. Diesel, warm earth, and herb curt bites leave their mark on the exhale as well. Overall, Blueberry Diesel provides one of the most complete flavor experiences imaginable.
Appearance
The Blueberry Diesel strain has bright hues in its blue nuggets. Light greens, enticing purples, and brilliant blues are some of the brilliant colors seen throughout the plant. The buds also have a layer of brightly colored orange pistils. They're also rather sticky, with a glossy covering of sparkling trichomes and a vibrant color palette.
Blueberry Diesel Strain Grow Info
Both indoors and outside, Diesel Seeds cannabis plants thrive. However, outdoor farmers should keep in mind that this variety requires a warm Mediterranean environment. Between late September and early October, outdoor producers may anticipate their first yield. This strain takes approximately 8-9 weeks to mature indoors.
Diesel is easy to grow and doesn't require as much attention as other varieties. It's not fussy, and it grows without a lot of fuss. It's resistant to many forms of mold and pests, and the
It's also rather tall, with some higher estimates reaching around six feet. While this isn't the tallest strain, it may cause issues for people who have little space. Blueberry Diesel has a lot of resin and is quite productive, with indoor producers obtaining up to 18 ounces of cannabis per square meter on average.
The yields of outdoor cultivators may be higher than those who cultivate indoors. Blueberry Diesel's high yields and quick growth period make it an excellent strain for both novice and expert home gardeners.
Medical Benefits of the Blueberry Diesel Strain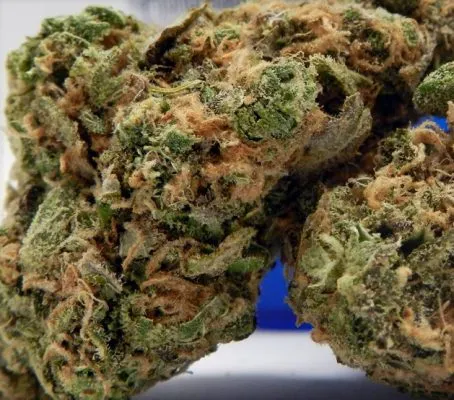 'Blueberry Diesel,' a mélange containing equal parts of 'Blue Dream' and 'Super Skunk,' is superb at treating a wide range of ailments. Its 20% THC concentration and smooth comedown make it great for reducing tension and anxiety. It's also beneficial to individuals who are sad.
Users of this strain aren't compelled to stay at home or in bed. Instead, it gives users a burst of energy. Users who have severe tiredness issues report an improvement in attention, energy, and awareness when utilizing this cannabis species.
Users of Blueberry Diesel have claimed that it helps to cure migraines and headache pain. It may also aid in the treatment of joint and back problems, as well as other persistent bodily pains and aches. People who enjoy Blueberry Diesel claim that it makes them feel happier, more peaceful, and calm.
Blueberry Diesel has shown to have a calming and soothing effect on people with ADD/ADHD. It may help those who are stumped as some users have said that they felt more creative and driven. While using Blueberry Diesel, individuals living with PTSD or panic disorder may feel less anxious.
Possible Side Effects of the Blueberry Diesel Strain
Some people who use Blueberry Diesel have reported experiencing undesirable effects afterward. Drowsiness and dry eyes and nausea are among the negative symptoms reported by some users. Other complaints include anxiety, headaches, and paranoia.
Final Thoughts on the Blueberry Diesel Strain
The Blueberry Diesel strain is a great daytime smoke. It doesn't have the same level of couch-lock or drowsiness as other strains. Instead, it revitalizes and boosts energy, which are important elements in battling tiredness symptoms.
It's a low-risk, high-reward approach for people to finish jobs and develop creative outlets. Its capacity to increase calm while sharpening attention and clarity may assist clients with ADD/ADHD, panic, and mood disorders who are suffering from symptoms linked to the condition.
The relaxing, euphoric, and uplifting qualities of Blueberry Diesel make it a great choice for social gatherings with friends. It may stimulate conversation and alleviate social anxiety. While it may encourage sentiments such as satisfaction and joy, users have noted that it is also effective as a painkiller.
This strain is used to treat migraines, backaches, joint aches, and other physical ailments by enthusiasts. It's been said to help with inflammation from hard exercise and overuse.
It is also quite simple to cultivate, and it is exceptionally potent and helpful for a variety of ailments. This strain is appreciated by both novice and expert cultivators alike.
It only takes a few minutes to grow. It does, however, need a warm environment for outside development. It also yields an excellent crop of 18-21 ounces per square meter, dependent on indoor or outdoor cultivation. Furthermore, its delicious combination of sweet blueberry, pine, citrus, and diesel notes has made it quite popular. In conclusion, it's easy to see why so many people enjoy this strain. It's simple to cultivate and provides a powerful boost. It relieves muscular pains and stiffness. It's an excellent alternative for anybody wanting to broaden their cannabis choices