The Gelato strain has flowery lavender and earthy undertones that alter into citrus and berries on exhale. It's a wonderful way to brighten your mood and spirits while also cultivating a creative energy with strong concentration. Gelato is also used to treat a variety of chronic diseases, making it an excellent therapeutic bud.
The Gelato marijuana strain may have a sweeter taste than the most delectable dessert you've ever tasted…
The Gelato marijuana strain, named for the way it affects taste buds and senses with pure, dessert-like pleasure and sweetness, has begun to take over the cannabis industry—and in a rather lovely manner.
Gelato was created by the geniuses at Cookie Fam Genetics in San Francisco.
Gelato was created by many great masters throughout history, but the phenotype number 33 is most often connected with the strain – hence the name "Larry Bird" (the basketball legend's old number).
Gelato marijuana, which gets its name from the Italian term for ice cream, has become renowned for its distinctive and powerful effects that are well-balanced and won't leave you exhausted in the end. Whatever your current "stoner status" is, you must try Gelato weed; with a hint of citrus and sweetness, it will undoubtedly transport you to another dimension.
Read on to learn more about this unique marijuana strain, including what distinguishes it from other kinds of cannabis.
Gelato Marijuana Strain: What is it?
Cookies Fam Genetics decided to cross Thin Mint Girl Scout Cookies with Sunset Sherbet when they began Gelato because they wanted something unique. They successfully bred a phenotype that pleased them and this strain has become known as "Gelato."
This lovely and delectable strain is a well-balanced hybrid that has about 56 percent indica genes and 44 percent sativa. However, despite the fact that it contains more of the sedative indica genes, it seems to offer overall energizing and uplifting effects – not always the case with strains that have many indica genes.
However, one of Gelato's most distinguishing characteristics is its high THC content, which can range between 18% and 22%.
THC amounts of most plants fall between 20 and 26 percent, which is plenty of punch for individuals who want herb that not only lasts a long time, but also needs little flower to be consumed before the powerful effects are felt.
Gelato's story is as unique and fascinating as the cannabis strain itself, all woven together by its deliciousness and the fact that it promotes physical relaxation with tastes of citrus, berry, and sweet confections.
Gelato is the latest offering from GSC's Gelato Genetics, and it's named after the delicious Italian ice cream treat. It is a tempting cannabis hybrid with buds that tend to develop into dark purple hues, enhanced by fiery orange hairs that are gorgeous to look at.
Wondering Where to Buy Gelato Marijuana in the USA?
Gelato is one of the most difficult strains to locate in the United States, however it may be found in some of the more well-stocked, well-known cannabis dispensaries (typically recreational stores rather than medical clinics).
As a rule, the easiest alternative is to simply go over the current menu of your local marijuana store if you reside in one of the lawful states out of the 50. Even if Gelato isn't well-known in most dispensaries, it can be found all across the country – especially at top shops.
Gelato Marijuana: Aroma, Flavor and Appearance
When Gelato is nearby, the distinct and pungent aroma makes it simple to determine that cannabis is in the area. As a result, transporting these buds about isn't very discreet, which might be a deal-breaker for some people. If you don't mind the sweet fragrance, however, believe us when we say it will be worth it.
Gelato is a citrusy, fruity strain that smells sweet and fragrant. This marijuana variety has undertones of blueberry and orange in its fragrance. The flavor of Gelato (not the ice cream) is very well-suited to a wide range of cannabis users, which means it will be appreciated by everyone who tries it.
Gelato marijuana's flavor profile begins with strong sweet and woody undertones that are then complemented with subtle notes of lavender.
Psilocybe cubensis is a psychedelic mushroom that grows in woodsy areas and produces thick, white smoke when smoked. The flavor changes to a combination of berries and citrus after each hit, providing a pleasant surprise for the tastebuds.
Gelato is a beautiful strain, and its appearance is rather unassuming. Its sugar leaves are purple and green, with hints of fiery red and orange that change into the brassy pistils – those tiny curling leaves that twist and dance among the chilly sugar leaves. Despite having a high THC level, Gelato's sugar leaves aren't particularly frosty; instead, they offer a little bit of sparkling crystalline glimmer.
Gelato Cannabis Strain: Grow Info
The Gelato cannabis strain, owing to its indica heritage, produces only a short to medium height when cultivated indoors, making it ideal for people who wish to cultivate this crop but don't have a lot of vertical space.
The buds of this strain are gorgeous to look at and observe as they develop, especially when freshly harvested. Obtaining seeds (or clones) is often a difficult task, making the beginning of this crop's cultivation the most challenging part. If you know someone who has access to these plants, you may acquire one from them (if they're willing to let go, of course!).
Gelato is a difficult strain to cultivate, although it may be cultivated successfully indoors or outdoors using appropriate methods and by carefully monitoring the maturation process. Because this plant requires a particular temperature and atmosphere to thrive, a grow tent is ideal. It's easier to keep an eye on and fine-tune these settings inside the tent. For optimal performance, the surroundings must be kept at a certain temperature and humidity.
Gelato is only developed in a controlled environment, such as inside a refrigerator or a freezer. You'll have to live in one of the world's more pleasant climates if you want Gelato to flourish outside. Warm and humid temperatures are ideal for this crop's beginning. However, before the blooming period,
The flowering period for Gelato marijuana generally lasts from 8 to 9 weeks, and the yield is usually at least above average, so be patient as your efforts pay off when the medical preparation is ready for drying and curing.
Effects of Gelato Marijuana Strain
Those with little expertise should begin with Gelato marijuana cautiously, since it has a maximum THC concentration of 26 percent. For those who are just beginning their cannabis adventure, a tiny amount of this strain can go a long way.
Gelato weed, despite having indica-dominant genetics, isn't sedating or tiring to consume, perhaps explaining why it has become so popular.
Gelato cannabis, on the other hand, enters the brain and produces a cerebral high that is focused-forming as well as soothing. This frequently warring combination truly works with Gelato in a way that is not only pleasant for customers, but also healing.
The benefits of this strain include making its user happy, creative, relaxed, and euphoric. This Gelato weed is suited for social gatherings, artistic projects, and productive afternoons when you need to have a lot of focus. It's quite multi-dimensional and versatile, and it may be utilized for a variety of purposes.
Medical Benefits of Gelato Marijuana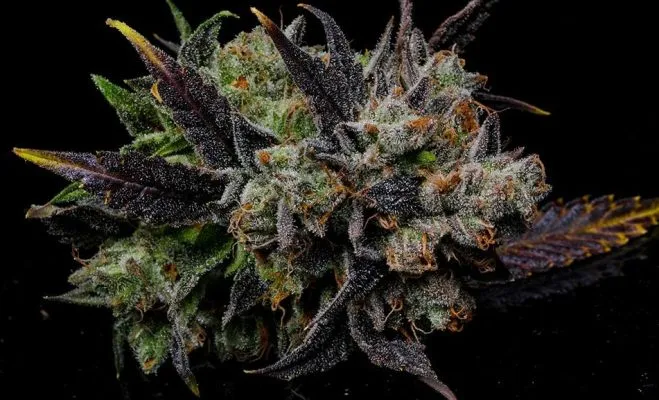 The Gelato cannabis strain is beneficial on both a physical and mental level, having various medical advantages that might help people from all walks of life. The strain's bodily relaxant qualities have been said to aid with muscular spasms, inflammation, cramps, headaches/migraines, and chronic pain on a physical level. It can assist with sleeplessness if ingested in the late evening when your body is ready for sleep.
Because the Gelato strain is already quite powerful in terms of THC concentration, you may not need to search for a different mode of intake to get the treatment you require. If you don't want to smoke but do want a gummy or candy (or something else), finding Gelato edibles might be tough – but they do exist. Fortunately, if you're okay with smoking marijuana, this choice is readily accessible and packs quite a punch.
The three mental states that Gelato seems to have the most impact on are depression, anxiety, and stress, and this strain gives a great deal of relief to individuals who suffer from these often incapacitating problems.
Gelato marijuana is so powerful that only a few puffs are required to get the desired effect – and, in fact, over-consumption of THC can cause anxiety or paranoia in persons who have been diagnosed with mood disorders or conditions affecting the mind. As a result, it's better to start out small and progress from there as you grow more comfortable.
Possible Side Effects of Gelato Weed
Gelato marijuana is a dream for individuals who don't want to deal with the unpleasant side effects of "faulty" cannabis.
Gelato cannabis has a fast and tremendous first impact, so some consumers may experience dizziness at first.
On extremely rare occurrences, 30 to 60 minutes after the first hit is smoked, there may be a little anxiety.
The Gelato marijuana strain may also cause mild cottonmouth (cottonmouth) and dry eyes, but these symptoms are readily treated with a little additional preparation and planning. You can not only alleviate the dry mouth by drinking lots of hydrating fluids before, during, and after your high, but you may also prevent any headaches or grogginess the next morning – in addition to keeping your body healthy and hydrated (which is advantageous no matter what).
As a result, keep a bottle of water within reach at all times, in case you become weary and don't want to get up (the appearance of the bottle may also serve as a gentle reminder to drink on occasion).
Overall, the Gelato cannabis strain appears to have little to no negative side effects when compared to other high-THC strains.
Gelato Strain Review: Final Thoughts
Overall, the advantages of Gelato marijuana are remarkable, while the drawbacks appear to be minor and manageable. If you're looking for an herbal substitute for traditional pain medications, muscle spasms, depression, or anxiety treatment that's less invasive than surgery, then Gelato may be a strain that could help.
We hope you enjoyed reading this article, which we hope has been both entertaining and instructive. It's critical to note that the use of marijuana is at the user's discretion, and caution should be used at all times.