Lemonade is a famous summer drink that seems to take the edge off things. It's an excellent sweet treat to have on hand all year. The sour and refreshing taste goes great with watered-down alcohol.
Summertime's great pleasures include lemonade with a cannabis twist. Even better news? It's really easy to make. Add canna-tincture to taste or simply combine it in a cold glass of homemade lemonade.
If you want to learn how to make cannabis syrup, start with this potent extract and add it to whatever drink you like.
Summer Weed Lemonade
INGREDIENTS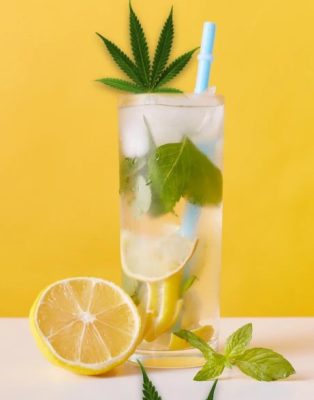 6 cups (1.35 liters) cold water
2 cups (450 milliliters) lemon juice (or 8-10 lemons)
1 cup (225 grams) sugar
3 Teaspoons infused vegetable glycerine or Cannabis THC Tincture
Pinch of salt (optional)
HOW TO MAKE
Simply use lemon juice that has already been squeezed to make this citrusy. Of course, if you squeeze the lemon yourself, it will taste better. No matter where you got it from, add fresh or bottled lemon juice to the water and thoroughly combine it.
Some people prefer syrup over sugar, which is a method of ingesting cannabis that has become increasingly popular in recent years. The sweet element is added at this stage, but it's not necessary. If you have diabetes and use a natural sugar substitute like Stevia instead, be aware that you should utilize sugar cautiously. Also keep in mind that the canna-syrup is very sugary. Keep in mind that the canna-syrup is also quite sugary.
To this, add the glycerine and, if necessary, a pinch of salt.
Combine the powdered mix back into the mixing container and thoroughly whip once again.
Strawberry infused Lemonade
Ingredients
3 Lemons
6 Large Strawberries
5 cups water
Ice-Cubes
Sweetener to taste.
Instructions
To make lemon water, cut one lemon in half, squeeze the juice into a microwave-safe bowl or cup, add one strawberry (sliced), and two lemon halves. Microwave for 1 minute 40 seconds to 2 minutes depending on your microwave, with a total of two cups of water added afterwards.
Meanwhile, cut the strawberries into half-inch pieces. Squeeze one lemon into the pitcher and slice it before adding it.
Place the ice cubes in a large pan, then add 3 cups of cold water. Drain out the microwaved lemon-strawberry water next. Squeeze as much lemon juice from the lemons as possible before removing them.
Fill a tall glass or a goblet halfway with ice and the cup. Add the cup and ice to a tall cocktail glass or a stemmed goblet. Fill the rest of the glass with sparkling water and set it aside. Stir in any sweetener before serving.
Recipe Notes
When preparing lemonade with the peel and juice, be sure to bring it to a near-boiling temperature before serving. If you heat up this lovely aroma and flavor, you'll notice that it's considerably better. Add extra water or Sweetener if necessary to balance out its strength. Use 1/2 cup (or more) of Vodka or Tequila to spruce it up for the grown-up version. You may use the other version as a sugar syrup for Vodka lemonade by making a Thick or Rich Simple Syrup (basic, simple syrup) — A ratio of 1 part water to 1 part sugar — This is used as the basis for cold fruit beverages and cocktails. On medium-low heat until the desired consistency is reached. Cool it before incorporating it into the lemonade.
Best Weed Lemonade
Ingredients
fresh lemons
water
a sweetener of choice
cannabis tincture
Instructions
In a saucepan or pot on the stove, combine the water and raw honey.
Stir until the honey has completely dissolved.
Remove the heat (about a minute).
Pour the filtered water into a pitcher or large container (the recipe specifies precise amounts below).
To get the desired degree of sweetness, add the raw honey mixture gradually as needed.
Pour the lemon juice, half of the white crème de menthe, and half of the vodka into a cocktail shaker with ice. Shake for 30 seconds, then strain into a chilled martini glass. If you like, add whipped cream and broken white chocolate to finish.
Instructions
Fresh lemon juice is the best option, not concentrated or pre-squeezed lemon juice. It won't be the same.
Use high-quality ingredients such as fresh, strong lemons, raw honey, and excellent water to improve the quality of your lemonade.
Don't just dump the entire box of sweetener in; it's not required to do so. Before adding honey water, test the lemonade mixture to see how much honey water is needed to achieve proper sweetness.
Save the pulp, if desired, or take it out – If you don't want the lemonade to have any pulp in it, strain it through a fine mesh strainer.
Chill it as soon after mixing as possible – lemonade needs several hours in the refrigerator to bring the components together and produce the most delicious lemonade.
Add more things – try combining one of the alternative fruits with your lemonade to create a completely new flavor profile.
To prevent your lemonade from "diluting," consider adding a little extra to transform into ice cubes for later.
Pink Cannabis Lemonade
Ingredients
⅔ cups sugar
3 ¼ cups water
½ cup lemon juice, freshly squeezed
¼ cup cranberry juice cocktail
4 tablespoons Cannabis Tincture
Instructions
In a medium saucepan over medium-high heat, bring 1 cup water and the sugar to a boil. Remove from the heat and set aside to cool slightly while you make the rest of your recipe.
Allow to cool at room temperature before covering and refrigerating until cold.
In a pitcher big enough to mix everything, combine the frozen syrup, lemon juice, cranberry juice, Cannabis Tincture, and remaining water.
Serve over ice, if desired.
Classic Weed Lemonade
A pitcher of traditional lemonade is never a bad option. This crowd-pleaser, which doesn't need any more beauty to be just as delicious as its improved siblings, has no frills or grandeur.
Ingredients
Ruby Cannabis Sugar
¾–1 cup non-infused sugar (sweeten to taste)
6 cups cold water
6 lemons
Directions
To make juicing simpler, squeeze the lemons between your hands or on the countertop. To make one cup of juice, juice all of the lemons.
Combine one cup sugar, one cup lemon juice, and six cups cold water in a pitcher. Stir thoroughly.
To taste, add water and sugar as needed. Chilling time will depend on the temperature of your freezer.
Each packet of Ruby Sugar contains 10mg of THC. To obtain accurate dosages, make and serve your lemonade before adding the infused sugar to individual servings based on personal preferences.
The following is a recipe for one person: Pour a frozen drink into a cup in your blender. Blend with ice and pour into a glass.
Pro Tip: To eliminate gritty lemonade, start with simple syrup as directed in this recipe. Simply simmer 1 cup granulated sugar and 1-1/2 cups water in a small saucepan until the sugar is completely dissolved. Allow to cool before combining with fresh squeezed lemon juice and the additional water.
Sparkling Rosemary-Sprig Lemonade
Reach for this drink when you're in the mood for a marijuana high. It's lightly herbal with a clear, fizzy end that will make you want to taste it again and again.
Ingredients
Syrup
1 ½ cups water
1 cup granulated sugar
1–2 large sprigs rosemary
Lemonade
Sprig
5–6 lemons
5–6 cups water
Additional rosemary sprigs to garnish (optional)
Directions
Syrup
Bring water, sugar, and rosemary to a boil in a small saucepan over medium-high heat. Bring to a boil again before turning off the heat.
Remove the rosemary from the stem and let it steep for 15 minutes before removing it.
Remove sprigs.
Lemonade
To make juicing simpler, squeeze lemons firmly between your hands or a countertop. To get one cup of juice from all the lemons, juice them all.
Stir lemon juice and rosemary syrup in a large pitcher. Combine well with water. Add more syrup if desired.
Fill each glass three-quarters with lemonade and finish with Sprig.
Garnish with rosemary and enjoy!
Pro Tip: Sprig has a consistent release schedule, and each can includes 45 mg of THC (four and a half doses). To get the dose and flavor you desire, start small and play with the ratios. If Sprig isn't available to you, use another infused soda product to make your lemonade stand out.
Cucumber Canna-Mint Lemonade
Cucumber and mint are a classic match that never goes out of style. The very first sip of this delicious elixir makes you feel as though you're in the midst of a relaxing spa treatment.
Ingredients
Syrup
1 cup granulated sugar
1 ½ cups water
Lemonade
Dixie Elixir Spearmint Dew Drops
1 cup cucumber, peeled and sliced
1 cup mint leaves
6 lemons
6 cups water
Additional mint and cucumber slices to garnish
Directions
Syrup
In a saucepan, combine sugar and 1 ½ cups water. Bring to a boil until the sugar is completely dissolved.
Remove from heat and let cool.
Lemonade
Squeezing lemons with your hands or a countertop will make juicing simpler. Make one cup of juice by juicing all of the lemons.
In a blender, combine the cucumbers, mint leaves, lemon juice, and simple syrup. Blend until smooth until it's completely smooth.
Pour the stock into a large glass pitcher after straining it through a fine sieve or cheesecloth.
Mix the ingredients together with a spoon. Add more water if necessary.
Fill glasses with lemonade and add Dixie Elixir Spearmint Dew Drops to taste, then serve.
Serve with a sprig of mint and a slice of cucumber for garnish.
Pro Tip: For more mint flavor, add a few extra leaves of mint to the simple syrup as it boils. Remember to remove any used leaves once the syrup has cooled.