Are you interested in making your own cannabis-infused food? This page is here to guide you! Get the full run down on how the process works, what materials are needed and how long it takes to make delectable edibles at home. Plus, check out some of our favorite recipes for cannabis-infused dishes so that you can start cooking with confidence!
What are cannabis edibles & edible recipes?
Crafting delectable cannabis infused treats has never been easier with the help of a variety of delicious edible recipes! Whether you're looking for something sweet, savory or somewhere in between – there's an edible recipe to suit all palates. All it takes is your favorite marijuana strain and some culinary creativity to make deliciously potent edibles that will tantalize your taste buds.
When you eat marijuana, your organism absorbs it significantly more slowly than when smoking – so take the time to find that perfect balance for yourself. Edibles are obviously much less hazardous for your lungs and throat as well. Dosing is a trial-and-error process; start off with 5 milligrams of THC per serving if needed, then adjust accordingly until reaching an ideal dose.
Staying safe using edible recipes
Before anything else, your safety is paramount when it comes to cannabis use. Be sure you wear gloves if you're handling any amount of cannabis oil because it can be absorbed through the skin. If this is your inaugural experience with marijuana and particularly edibles, expect that their effects may not come on immediately; they generally kick in after about 30 minutes but last for up to 8 hours or more – so plan accordingly!
Edible infusion bases for recipes
Unlock a world of possibilities with cannabis-infused recipes! From butter and oils to honey and tinctures, you'll be able to concoct an array of tasty edibles. Having multiple bases will also enable you to mix up different flavors or add that extra bit of sweetness for the perfect bite. Enjoy as much flavor variety as your heart desires – it's all possible thanks to these canna-recipes!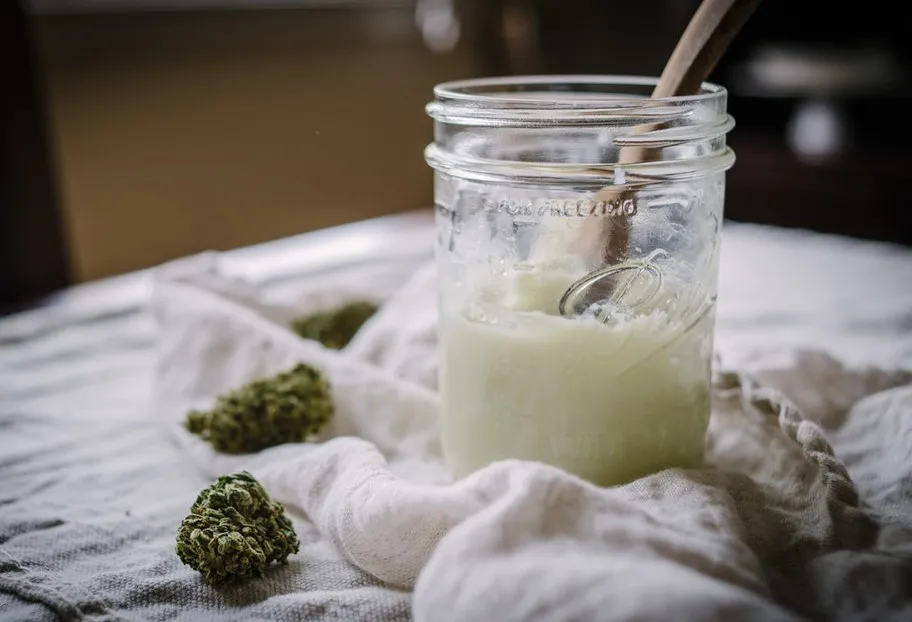 Cannabis Infused Coconut Oil Recipe
Our Cannabis Infused Coconut Oil recipe is a paradise of flavor and adventure. From body lotions to cakes, coconut oil's infinite applications will make sure you empty the jar in record time! Not only does this magical ingredient have a high smoke point for all kinds of cooking methods, but it comes with an extra bonus – proper dose instructions! For instance, take Kaya Haze to add a tropical aroma on top of your coconut shrimp or pineapple fried rice. Or if sweets are more up your alley, infuse Emperor Cookie Dough into the mix to craft fragrant dark chocolate truffles that'll melt away any craving.
This recipe yields 24 teaspoons
Takes about 30 mins to prep
Takes about 3 hours to cook
Take about 3.5 hours in total
Not only is this cannabis infused oil scrumptious, it can also be used to make natural body products. Coconut oil solidifies at 74 F or below – making it the perfect base for homemade lotions and butters! It's also suitable when warmed up as massage oil or lubricant. Just remember to label your creations accordingly so you don't confuse them with cooking oils! Here are some amazing strains to use with this recipe.
Wedding Cake Strain
Mimosa Strain
Gelato Strain
Sherbert OG Strain
Ice Cream Cake Strain
Runtz Strain
Cereal Milk Strain
Ingredients
2.33 grams Ground Cannabis Flower
1/2 Cup (108 grams) Coconut Oil
Instructions
To start off your cannabis infusion journey, it is imperative to decarboxylate. This will activate the THC and/or CBD for a more powerful product! To begin the process, preheat your oven up to 220 F and equip a baking sheet with parchment paper. After spreading out your weed over the preparation surface, place aluminum foil on top of everything before putting in the oven. Be sure to keep an eye on things as every stove varies; after 22-30 minutes you should have lightly browned buds instead of burnt ones!
Bring out the full flavor of your butter by infusing it with flowers. Use a double boiler, slow cooker, decarboxylator device, or sous vide to combine the bud and butter and heat over low flames for at least 3 hours -or- maintain an 85C/185F temperature.
Carefully sieve the mixture with a fine mesh strainer or cheesecloth. For your safety, it is recommended to wear disposable kitchen gloves and use flexible spatulas when handling this material; since THC infused oil can be absorbed through skin contact, coming in direct contact with this substance could result in an undesirable experience. (Chef Korby)
Store your finished cannabis infused coconut oil in a mason jar and enjoy! The potency of the oil will, however, depend on its THC and CBD content so it may be beneficial to first test out with a teaspoonful before determining the dose suitable for you.
How To Make Cannabis Tincture
Ever since the 2018 Farm Bill legalized cannabidiol (CBD) on a federal level, conversations have been abuzz with how to take advantage of this remarkable molecule.
If you want quick and reliable results, tinctures are the way to go! In comparison to smoking, vaping, edibles or skin rubs, tinctures provide immediate relief of your symptoms. Furthermore they boast the highest bioavailability — that means more CBD ending up in your bloodstream rather than passing through unnoticed.
It's now simpler than ever to make your own CBD tincture right in the comfort of your home – all you need is basic kitchen supplies and some hemp buds!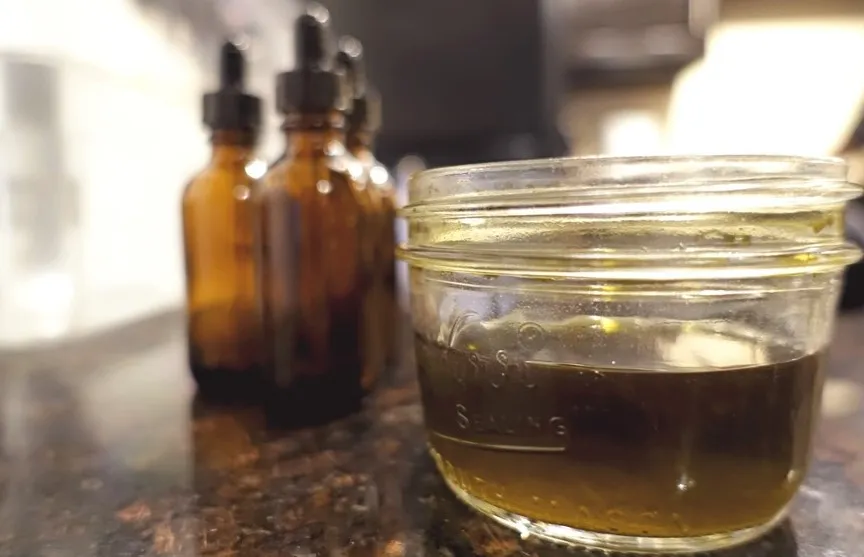 What is a Tincture?
For centuries, tinctures have been a mainstay in the world of medicine. This type of liquid is placed beneath one's tongue and left there for up to one minute; this allows those substances within it to be quickly absorbed into the bloodstream! Why? Simply put, underneath the tongue has an abundance of blood vessels close to its surface where CBD can pass through both the thin membrane composition as well as cellular walls without issue.
Prior to the prohibition of marijuana and cannabis in the 1900s, alcohol-based tinctures were one of the most popular methods for consumption. Large pharmaceutical companies such as Bayer, Eli Lilly, and Parke-Davis even produced their own line of cannabis tinctures used to treat ailments like migraines, delirium tremens, nausea sicknesses, spasms or seizures caused by epilepsy.
Tinctures fell out of favor around 1910, when the Mexican Revolution was underway. Mexicans who fled the war brought along dried cannabis flowers, which they smoked and named "marijuana".
Tinctures have been resurging in popularity for various reasons – the current, extensive research into CBD's therapeutic properties and its non-smoking intake method being two of them. Additionally, tinctures are an affordable, safe alternative to synthetic products that can be easily prepared at home.
How to Make Your Own Alcohol-Based Cannabis Tincture
Before beginning, you'll require your own hemp flowers. These can be obtained from multiple vendors around the nation. It is essential to note that compliant cannabis strains generate plants with no more than 0.3% tetrahydrocannabinol (THC — the psychoactive portion of marijuana). Therefore, shop carefully and ensure that your product meets all legal requirements for THC concentration!
Hemp CBD tinctures are safe for use, as they won't get you high or impede your driving capability or concentration. This makes it an ideal product to try on your own!
Step 1: Decarboxylation
Before actually manufacturing your tincture, you must undergo the chemical process of decarboxylation. This is because the CBD found in hemp flowers isn't yet available for our use; rather it exists as CBDa – an inactive form that has minimal bioavailability and won't provide desired results. To ensure efficacy, we must convert this into a more absorbable state through decarboxylation.
Ingredients
Baking sheet with parchment paper
Bowl
Mesh strainer
¼ oz. of hemp buds
Everclear alcohol (or another high-proof spirit)
Lidded Mason jar
Cheesecloth
1 oz. glass bottle with an included dropper lid
Instructions
To get started, preheat your oven to precisely 240 degrees Fahrenheit — this low temperature helps with the transformation from CBDa to CBD. Use your hands or a coffee grinder for breaking up the hemp flowers into tiny shreds before putting them in the oven.
Carefully spread the shredded flowers on a parchment paper-lined baking sheet, and bake for around 40 to 60 minutes. The objective is not to burn them but achieve a light golden brown shade – they should remain soft and fluffy.
After you've removed the baking sheet, allow all items to come down to room temperature.
Step 2: Making the Tincture
The next steps are as follows:
Place the dried hemp flowers in the glass jar and fill it to the top with Everclear.
Put the lid on and shake it.
To extract the cannabinoids from hemp, keep this glass jar in a shaded area away from sunlight (for example, inside a closet). Make sure to give it an occasional shake every few days so that any floating of the hemp flowers is avoided.
After 3 to 4 weeks, take a mesh strainer and cover it in cheesecloth. Pour the jar's contents through the cloth to catch the plant material.
The liquid is your finished tincture. Pour it into a dropper jar. Start with a few drops under your tongue until you find the amount that works for you.
The rest of the tincture will stay preserved for years.
After you have completed your tincture, simply fill a dropper bottle with it. Begin by taking a few drops underneath the tongue until you identify what quantity works for you; this will provide an edge to preserve the rest of the liquid for many years. Furthermore, if Everclear's potency is too strong for your preference, try mixing in some of your tincture into drinks and enjoy!
The Different Uses of CBD Tinctures
Unlock the full potential of your CBD tinctures by exploring all its possible uses. Apply it to your skin for a refreshing moisturizing experience or try using it as an oil in massage therapy sessions – both methods can be incredibly therapeutic!
CBD oil offers a plethora of self-care applications, allowing you to treat various symptoms, regulate sleep patterns and even soothe aches and pains. Athletes have found that CBD tinctures especially effective in managing their pain levels.