Treat yourself to chocolate and strawberries with a twist – add cannabis to the mix. It's as simple as adding some cannabutter to the chocolate sauce. Next, dip each strawberry in the molten chocolate. In order to achieve this, you'll need a wire rack and refrigeration. They're now ready to eat with ice cream on the side, if you like! How many times a day do you get a craving for dark chocolates? If you're anything like us, you've probably thought about melted chocolate at least once every hour – we understand it, no punishment intended!
Looking to try something new? Check out this Willo Chocolate Bars – THC & CBD.
There are two types of people in this world: those who enjoy chocolate and those who despise it. But, no matter how much you love Chocolate, there's no denying that too much of anything is harmful to us, and chocolate is certainly not an exception! That's why we believe you'll be delighted with today's dessert, which combines the greatest qualities of both worlds into a delectable, balanced summer meal that will satisfy your appetite while keeping you healthy.
Today we're sharing a chocolate and strawberries recipe with a canna twist – read on to learn more!
The Recipe
It's the time of year again. Strawberries are looking amazing, and as the weather grows hotter, we say goodbye to comfort food and hello to new fruits! But, on occasion, we all need something extra.
If you're looking for a delicious treat to enjoy during the summer months, this fresh and delectable cannabis-infused edible is sure to please.
Now, we may not take all of the credit – there have been many delectable recipes that mix marijuana into this summer classic over the years. But we were inspired, so here's our interpretation of Strawberries and Chocolate.
What Are the Benefits of Cannabis-infused Foods?
If you've never tried edibles before, you might be wondering what all the fuss is about! It's true that cannabis-infused cuisine has increased in popularity recently, and restaurants even offer fine dining experiences where you can enjoy all things cannabis!
Yep, the humble pot brownie has fallen by the wayside as more appealing alternatives have emerged, and we're here for it! But, apart from the obvious advantages of edibles, what are their advantages?
A delicious cannabis edible will taste fantastic and cause you to high, but there must be more to it than that, correct? Sure – edibles are significantly healthier for us than smoking marijuana!
Whether you have asthma or chronic obstructive pulmonary disease (COPD), or you're simply looking for an alternative form of nutrition, edibles can be the greatest method of consumption for a variety of reasons.
Edibles can offer various advantages, including:
Microdosing: When it comes to edibles, one of the most significant advantages is that you can easily measure your dosage correctly. If you're not attempting to get high as a kite but rather using it as a therapeutic aid, this is ideal.
Discrete: While someone is smoking a joint, it's hard to dispute that the rest of the world can tell! Smoking cannabis in more conventional ways is readily apparent. You may eat edibles if you're using marijuana for medical purposes and want to maintain total discretion when smoking.
Variety: The sheer number of options available in the world of edibles is one of its most appealing features! Gone are the days when your only option was a dreary pot cupcake. You may now consume everything from cannabis-laced cocktails to pot pizza!
What Will You Need?
For this dish, you'll need some of that fantastic cannabis butter we demonstrated you how to make in previous recipes. You're having trouble remembering? Take a look here for a detailed walkthrough.
Let's Get Cooking! What you will need is: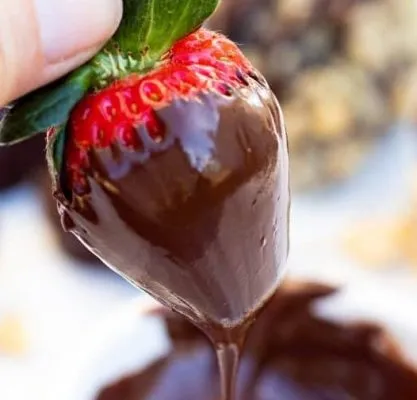 16 ounces milk chocolate chips
2 tablespoons shortening
1 pound fresh strawberries with leaves
Optional (Ice-cream)
Optional (White chocolate)
Making Your Canna-Infused Strawberries and Chocolate:
Step 1
In a double boiler (a bowl resting on top of a pan of simmering water), combine the chocolate, shortening, and cannabutter. Stir constantly until uniform.
You may buy chocolate chips from a store or online. If you want to make your own, prepare the ingredients and equipment ahead of time. To help prevent melting, keep all utensils cold as possible when combining them with the chocolate mixture. If you have never prepared chocolate before, keep in mind that it's easy to burn! There's nothing worse than wasting excellent chocolate, so be careful not to let the heat get trapped at the bottom of the pan by keeping all tools cold as possible while mixing them with the chocolate mix.
Step 2
Holding the strawberries by the stem, dip each one halfway into melted chocolate. If you want to get fancy, you could use a combination of plain and white chocolate to make your strawberries resemble marbles.
Step 3
Remove the brownies from the oven and allow them to cool fully on a wire rack.
Note: We know how difficult it is to resist chocolate treats, but trust us – they're worth the wait!
Step 4
Serve with ice cream on the side or drizzle melted white chocolate over top, using the same technique as in Step 1.
Step 5
It's time to get down to business with the bit you've been waiting for! The only thing left to do now is serve your chocolate-dipped cannaberry cupcakes!
Warning: We are not responsible for how many batches of these you wind up producing. These are ten out of ten addictive, so be careful!
Recipe Round-Up
So, there you have it ladies and gents, our perspective on that firm summer favorite: strawberries and chocolate. So, what do you think of them? Summer has arrived in full force, and an ice-lolly just won't cut it sometimes.