We've seen a tremendous increase in cannabis products and delectable cannabis recipes throughout the years. With more people becoming aware of CBD's numerous health benefits, they are embracing them with open arms and making room for them on their diets. Cannabis peanut butter cookies are one of the most popular recent cannabis cuisine fads.
Cannabis-infused peanut butter cookies are the perfect combination of deliciousness and convenience. You get all the flavor of peanut butter, crunchy cookies, and cannabis all in one package. And this is a type of cannabis edible that can be cooked and consumed by people of all levels of experience– beginner or experienced.
You may either buy cannabis butter cookies from a local or online CBD store, or you can create them yourself. Making delicious cannabis-infused peanut butter cookies recipe has several benefits, including the ability to make it whenever you like, lower manufacturing costs than packaged CBD peanut cookies, and the option to alter the ingredients and flavor to your preferences.
Before we get into the nitty-gritty of this step-by-step cannabis peanut butter cookies recipe, as well as the ingredients & kitchen equipment required and storage tips, let's first cover how to make cannabutter.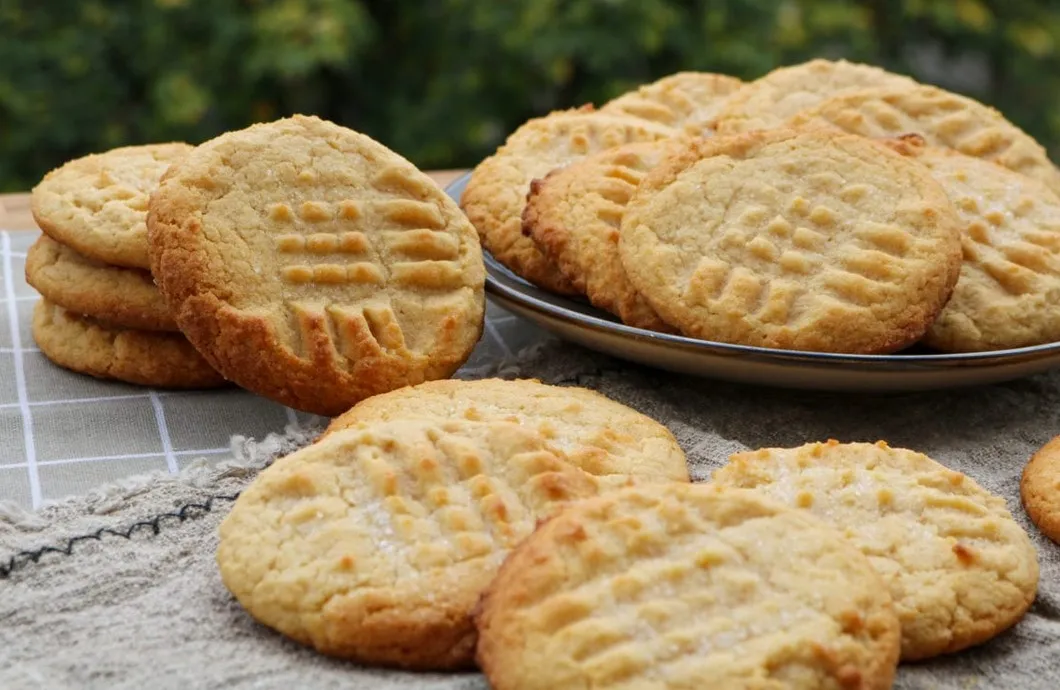 Here's a quick tutorial on how to make cannabutter at home. Here's what you need to do:
How To Make Cannabutter At Home?
Butter is delicious, isn't it? Isn't it true that we all adore butter? It's wonderful and may be used to enhance the taste of almost every meal. Now imagine how amazing the taste will be when you combine cannabis with it. Even thinking about it has increased our cravings!
Making cannabis-infused butter at home is straightforward. All you need is butter and decarboxylated cannabis, as well as the necessary kitchen equipment such as a hand grinder, whisk, oven, and so on. The following is a brief recipe for cannabutter:
First decarb cannabis.
Grind the cannabis using a hand grinder, making sure to not grind it too finely.
Then, combine the decarboxylated cannabis with the butter and simmer on a low burner for 2 to 3 hours. It must never boil after two to three hours of cooking.
Add the sugar and butter to a small saucepan. Melt them over low heat, taking care not to burn them.
Once the cannabutter has cooled, strain it through cheesecloth into a jar.
Refrigerate the butter after removing any water that may have accumulated on the bottom.
After the cannabutter has cooled, use a cheesecloth to strain it into a jar.
Drain any water that has accumulated on the bottom, then refrigerate the butter.
That's all there is to it! Your delectable cannabutter is now complete. You're almost halfway through the cannabutter peanut butter recipe with this. Now, let's look at the steps, ingredients, and equipment you'll need for the Cannabis-infused peanut butter cookie recipe.
How To Make Cannabis Infused Peanut Butter Cookies At Home?
So, now that you've completed the cannabutter, you're only a few ingredients and equipment away from beginning to make delectable cannabis peanut butter cookies. Look at the list of ingredients, equipment needed, cooking time, and step-by-step instructions below to learn how to prepare CBD peanut butter cookies at home.
Preparation Time: 2-3 Hrs
Ingredients For CBD Peanut Butter Cookies
1 cup cannabis butter
1 cup white sugar
1 cup brown sugar
2 Eggs
1 cup peanut butter
1 teaspoon baking soda
½ tbsp salt
1 tbsp baking powder
Recipe Instructions For Weed Peanut Butter Cookies:
Preheat the oven to 350-370 degrees Fahrenheit. While the cannabutter warms up, combine it in a mixing dish with white sugar, brown sugar, and peanut butter.
Using an electric mixer, combine the egg and milk in a large mixing bowl. Continue beating until light and fluffy.
In a separate mixing bowl, combine the baking soda, baking powder, and salt. Set aside for a moment.
In the following stage, combine both bowls and stir thoroughly until everything is combined. After that, leave the dough to freeze for about an hour.
With clean hands, form the dough into 1-inch balls. Set them on a parchment paper-lined baking sheet 2 inches apart. Make a classic crisscross pattern on each weed peanut butter cookie ball with a fork for an elegant finish.
After preheating your oven, bake the balls for 10 minutes or until the peanut butter cookies are golden brown.
Wait one minute to transfer them to a wire rack. If you want cookies that are warm, go ahead and eat some right away!
And there you have it! Your homemade, cannabis-infused peanut butter cookies are ready to devour. Its warm and delightful smell should fill the entire house by now, so go ahead and serve it to your friends or family members!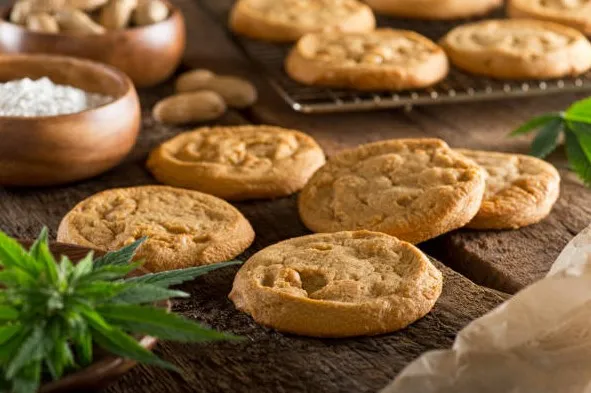 How Should Cannabis Peanut Butter Cookies Be Stored?
Similar to cooking, storing your cannabis cookies in the perfect environment is key to a delicious and healthy experience. Store your CBD-infused peanut butter cookies in a tightly sealed jar away from light for optimal freshness – they'll stay good for up to a week this way!
Summary: Any cannabis edibles recipe, including peanut butter cookies, is simple to follow at home. The only thing you need to be precise with are the amounts of ingredients and cooking temperatures. Also, confirm that you complete all steps in their proper order without trying to skip any.