For all of our readers who stick to a vegan or plant-based diet, we haven't forgotten about you! With cannabis edibles becoming more and more popular, today we're sharing three delectable recipes that will get you high and fed–all day long.
Vegan Cannabutter, The Main Ingredient For Vegan Edibles
Before we delve nose-deep into our delectable vegan edible recipes, let's Discuss the primary ingredient in each of these edibles – plant-based cannabutter. You might already be aware that, in order to experience a psychoactive effect from food, it's not enough to simply sprinkle some raw weed on top. First, the THC needs to be activated by high temperature and then bound to some kind of fat.
Cannabutter is most effective in making food psychoactive. This is because the butter, whether it comes from plants or not, has a high THC content that bind well with other cannabinoids.
Before beginning, it's important to know that weed needs to be decarbed – heated up, usually in the oven – to active the cannabinoids in the flower. This process is essential as activated buds are simmered in fat – we're using coconut oil – for several hours. By binding all cannabinoids to the fat, this allows the weed's potency levels to raise significantly. For these next three recipes, you'll need some weed-infused coconut oil readily available.
Vegan Edibles For Breakfast: Cannabis-Infused Pancakes
If you're one for starting your day with some cannabis, why not kick things off right by consuming a delicious and nutritious vegan breakfast? This recipe for weed-infused pancakes will tantalize anyone's taste buds! They're fluffy and soft with the perfect amount of sweetness – definitely a meal that'll start your day off on the lifted foot!
The ingredient list for this recipe is simple and chances are, you have everything it calls for in your kitchen. You'll end up with six fluffy pancakes that are meant to be eaten hot off the griddle. They're delicious on their own or as a vehicle for jam, coconut yogurt, or fresh fruit.
Ingredients For Vegan Weed Pancakes
You can personalize our weed pancakes recipe to your own liking by adding blueberries or chocolate chips (or both) to the batter, for example. Moreover, you can increase or decrease the amount of each ingredient if you want more than two servings–each person would get three pancakes. All that's needed for these delicious, filling, and light vegan cannabis-infused pancakes are:
All-purpose or whole wheat flour – 1 cup
Baking powder – 1 tbsp
Sugar or maple syrup – 2 tbsp
Salt – ¼ tsp
Your favorite dairy-free milk – 1 cup
Vegan cannabutter (weed-infused coconut oil) – 2 tbsp
Pure vanilla extract – 1 tsp (optional but highly recommended)
Oil to grease your pan if necessary
Directions
In a bowl, mix together the dry ingredients: flour, baking powder and salt. In another bowl whisk the wet ingredients: sugar (most people don't know that sugar is classified as a wet ingredient), milk, vanilla extract and plant-based cannabutter. If your weed-infused coconut oil has hardened again, heat in the microwave for just few seconds until liquid—be careful not to burn it!
Subsequently, you need to pour the contents of both bowls into a third bowl. Stir until just combined – seeing some lumps is totally acceptable. Avoid overmixing; otherwise, the pancakes will not be as fluffy. If desired, blueberries or chocolate chips can now be folded in with a couple extra movements. Let the batter sit for 10-15 minutes before cooking – this step allows time for extra fluffiness.
As the batter finishes resting, begin heating a skillet or non-stick pan over medium-low. To test if the pan is hot enough, drop in a small amount of batter – it should start cooking immediately upon contact.
Now, if you want to fry your pancakes using oil, lightly grease the surface. Then, pour a quarter of a cup batter at a time for future pancakes out on the pan and cook them 2-3 minutes on each side. You can tell when it's time to flip them when the upper, raw side of the pancake becomes bubbly and matte instead of glossy. After making all Pancakes from batter, serve immediately with tea or coffee.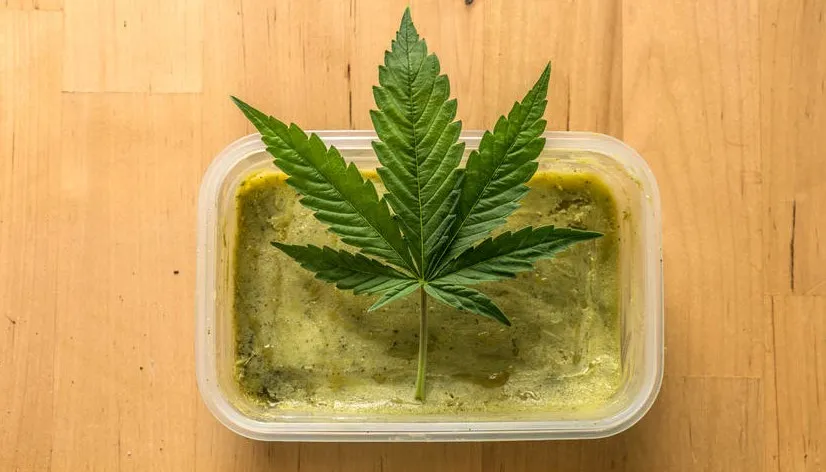 Vegan Edibles For Lunch: Cannabis-Infused Avocado Toast
If you're looking for a savory and filling lunch with an extra zing, avocado toast is the meal for you. This dish has been beloved by people everywhere because it's both delicious and beautiful. Our version at Herbies includes cannabis-infused coconut oil to give you several hours of laser focus and inspiration.This recipe usually serving 1-2 people, depending on how much they want to eat or the size of their avocado.
Ingredients For Weed-Infused Avocado Toast
The avocado toast meal is already super healthy and simple, but we're about to take it up a notch with some spices! Even though the ingredients are straightforward, their quality matters – get an ripe avocado and fresh bread. Opt for different types of breads too for more texture: lightly toasted ciabatta or sourdough bread would be great choices.
Bread of your choice – 2-4 slices
Avocado – 1 large or 2 small
Lemon – half
Vegan cannabutter (weed-infused coconut oil) – 1 tbsp
Salt, black pepper, red chili flakes – a pinch of each
Directions
Start by preparing your avocado for the weed-infused toast. Cut the avocado in half around the pit, open it and remove the stone. Scoop out all of the flesh into a bowl, leaving only The peels – you can either toss these out or grind them up to fertilize your growing cannabis plants. Once that's done, mashthe avocado with a fork until you get your desired consistency. Blend the ingredients to your preferred consistency- some people like it pureed while others prefer chunks. Add in our canna-oil and freshly squeezed lemon juice, stirring well until the cannabis-infused coconut oil is fully mixed in.
To prepare the bread, put it in the toaster oven or use a grill pan and toast both sides for a couple of minutes. Make sure not to burn it! Once the toast is ready, evenly spread avocado mix between pieces of bread. Top each avocado toast with salt, red chili flakes, and freshly ground black pepper. For an extra filling lunch, top your toast with tomato or cucumber slices! And now you're prepared to enjoy your weed-fueled meal.
Vegan Edibles For Dinner: Cannabis-Infused Creamy Lemon Pasta
We want to end the day with a good meal that we cooked ourselves, and this zesty, creamy pasta is perfect for those times when you also want to get high. Most plant-based meals don't have a creamy texture, but our pasta is different. Thanks to the cashews in the ingredient list, it's ultra-creamy without being too heavy.
Ingredients For Creamy Lemon Pasta With Weed
This recipe is our most sophisticated vegan edible, but we still keep things fairly easy. Please note that to make this creamy and smooth sauce, you'll need to use a blender for cashews. If you're not sure whether your blender is powerful enough to blend raw cashew nuts, soak them in hot water for half an hour before starting to cook – this will make the nuts softer and much easier to blend. So, four servings of this cannabis-infused creamy lemon pasta requires:
Pasta of your choice – 12 oz (340g)
Raw cashews – 1 cup
Water – 1 cup
Vegan cannabutter (weed-infused coconut oil) – 3 tbsp
Lemon – zest of 1 lemon and 4 tbsp of juice
Salt and freshly ground black pepper – to elevate the taste
Fresh parsley – for garnish
Directions
This vegan weed edible recipe is foolproof and perfect for special occasions. All you need to do is cook your favourite pasta in boiling water with some added salt, before Drain the cooked noodles then add them back into the pot along with our secret ingredient…Vegan Pesto!
While your pasta is boiling, start on the sauce. Zest a lemon using a grater, then cut it in half and juice it to get around 4 tablespoons worth of liquid. In a blender cup, mix together cashew nuts (raw or soaked and drained), water, plant-based cannabutter, salt, lemon zest, and lemon juice until combined.
Our pasta dish requires fresh parsley as a garnish, so go ahead and wash, dry, chop, and put it aside. By the time you're finished preparing everything else, the pasta will be ready. Drain the water from the pot of pasta and pour in the creamy lemon sauce. Excavate all of the sauce from the jar so that none of its flavor or power go to waste! Once you have gotten it all out, mix it in thoroughly with the other ingredients. Quickly dish everything out onto plates and top each serving with parsley and ground black pepper. By now, your mouth should be watering just thinking about this meal! So don't wait any longer to devour your delicious creation!
Perfect Cannabis Strains For Edibles
When cooking with cannabis, any strain if treated right will do the trick of getting you high. However, you're free to customize your experience with specifically picked strains. What qualities should you look for in a cannabis strain when choosing one to use in weed edible recipes?
Start by choosing a flavor profile that goes well with the food you're planning to make. For example, strains heavy in blueberry notes work great in vegan weed brownies (this recipe can be fully plant-based if you substitute 2 eggs with 1 banana). While not all of the terpenes survive cooking, it's worth experimenting with different cannabis strains to find one that tastes good.
Secondly, utilizing strains with a already determined potency is crucial because it will in turn affect the potency of your final edible product. Edibles typically hit harder than smoked weed would, so dosages should be taken into consideration by first-time users especially. A general rule of thumb for those new to consuming edibles: 5-15mg of THC per serving size. If you know the strength/potency levels of the weed being used in a recipe, then you can adjust as needed to make each portion higher or lower in cannabis content–substituting vegan cannabutter with regular coconut oil will help achieve this goal.
Bon Appetit!
With this article, you can explore all of the different vegan recipes available to you and still maintain a healthy plant-based diet! However, be cautioned that edibles usually have a stronger effect which lasts longer. For those reasons, it might be best to try these delicious recipes one at time. And when you do , please come back here and leave us a comment about your experience!