'Tis the season for joy and merriment! Mariah Carey's iconic "All I Want for Christmas is You", Elf, amongst other holiday movies, are playing everywhere you turn. Homes have been transformed into wintery wonderlands with festive decorations. Celebrate this special time of year by expressing your love to those around you through cannabis-themed stocking stuffers – they'll be sure to bring a smile to everyone's faces!
If you're looking for a way to make this holiday season extra special with THC and CBD treats, then we've got just what you need! Our cannabis staffing team has unearthed 25 of the most exceptional stocking stuffers available in today's weed industry. So don't forget yourself while shopping; take time to treat yourself after all that 2020 has brought – it's totally deserved!
Blazy Susan Walnut Flight Pad
Stumped on what to give the ultimate cannabis aficionado? Look no further than Blazy Susan's walnut flight pad! This is an ideal present for marijuana mavens who are always rolling joints while they're out and about. The tray offers everything you need – a lighter slot, cone holder, plus extra storage space for personal items. Gift this portable tower to any classic cannaseur and you'll be sure to make them jump with joy!
Binske Flower
If you want to offer someone special an extraordinary treat, Binske carefully selects the finest strains and cultivates them using only high-grade genetics. Every gram of flower is sealed in airtight, childproof mason jar packaging to ensure maximum freshness every time! From calming relaxation to sheer joy – no matter what your loved one desires, Binkse's flower will provide it all!
Camino Cannabis-Infused Holiday Punch Gummies
Get in the spirit of the season with Camino's festive gummies! Infused with terpenes, and combining a tangy cranberry flavor with a kick of cinnamon – these delectable treats are part of The Flower Company's 12 Days Of Holidaze collection. Before January 1st, 2023 take advantage to get $12 off your first order over $75 at flowercompany.com when you use promo code HOLIDAZE22 – hurry though as this offer is for one-time only!
Cann Cannabis-Infused Drink Yuzu Elderflower
If you're looking for a truly unique cannabis experience, look no further than Cann's limited edition Yuzu Elderflower flavor! Infused with Japanese yuzu citrus and Sicilian lemons in every can, this product contains 2mg of THC and 4mg of CBD. So don't delay — act fast to secure yourself one of these special drinks before they're gone forever from select retailers! With its distinctive taste and high-quality ingredients, Cann's Yuzu Elderflower makes the perfect gift for your cannabis enthusiast friends or family. Get yours now while supplies last!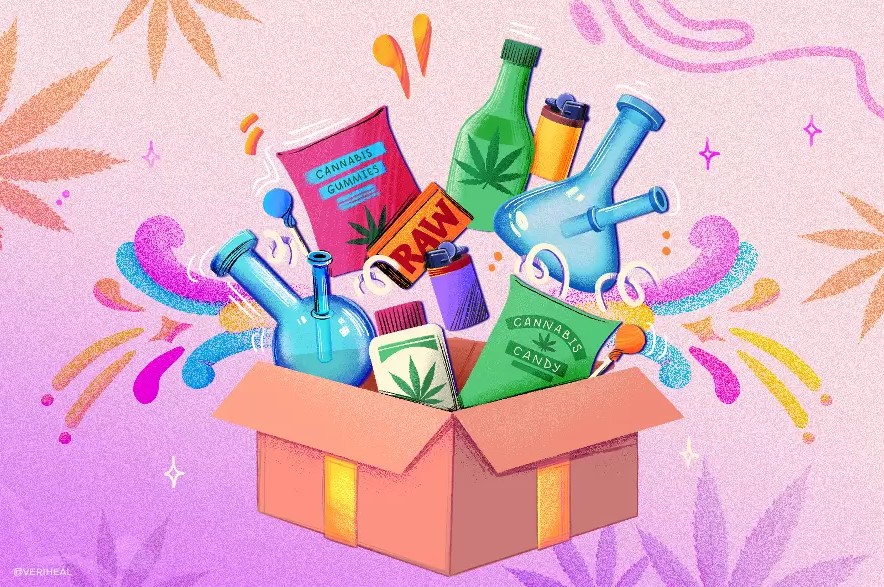 Cold Berger Squiggle J Tip
Make sure to get your hands on Cold Berger's Squiggle J Tips for the holidays and show off some '90s inspired retro style. With these long-lasting accessories, saying goodbye to wet J filters will be a breeze! This holiday season bring an exciting surprise to someone you love by adding one of these cannabis goodies in their stocking – just watch how they light up with joy when they see it! Hurry and shop now so that Santa can arrive at your doorstep with them before Christmas Day.
Countdown Cannabis-Infused Beverages
Begin your holiday festivities in style with Countdown's delectable Orange Blast and Berry Force cannabis-infused drinks! Not only do these canna-beverages offer a healthier way to get high, but they also come equipped with 5mg measuring caps for optimal dosing control. Plus, each serving is sugar free and just 5 calories; what more could you want? Purchase some as a gift or indulge yourself – it'll be an experience like no other!
Doctor Norms Cannabis-Infused Rice Bar
Make the holidays extra special this year with Doctor Norms cannabis-infused rice bars! With a variety of options to choose from – including Toasted Cinnamon, Fruity and Chocolatey – there's something for everyone. Our top pick has got to be Fruity; its crunchiness mixed with gooey marshmallows will take you straight back to your childhood days at recess. If you're searching for a gift that brings out joyous laughter this winter season, these tasty treats make excellent stocking stuffers!
Double Delicious Infusionz
Are you in search of a thoughtful, condensed present for someone who requires some R&R or relief from chronic pain? Then Double Delicious Infusionz is just what you need! Meticulously crafted by blending MCT and cannabis extract together, these bags can be conveniently used as part of skincare moisturizers, added to baths – or even applied directly onto the skin. If you're trying to find cannabis-infused gifts that ensure maximum results and bring an end to nagging aches and pains then look no further than Double Delicious Infusionz!
Heavy Hitters Ultra 1g Cartridge
If you're searching for a luxurious, yet powerful Sativa to gift someone special, than Heavy Hitters' Acapulco Gold is the perfect choice! This 1g cartridge packs an unmistakable creamy and delicious toffee flavor that pairs perfectly with any activity. And when it comes to quality cannabis terpenes, our products will not disappoint–each puff contains 95% THC or more! Delight your loved one today with this premium experience they won't soon forget!
High Life Farms Nuggies
Treat yourself, or somebody you know to something truly extraordinary – High Life Farms cannabis-infused chocolate-covered pretzels! They are crafted with artisan chocolates and in-house extracts for an unmissable flavor. With 10mg of THC per piece and 100mg across the entire bag, these treats make perfect presents for those who appreciate a combination of sweet and savory flavors as well as marijuana. Don't wait any longer – grab your pack today!
Jetty Extracts Mistletoke Unrefined Live Resin Cartridge
This holiday season, take your celebrations to the next level by combining Gush Mints with Jetty Extracts' Legend OG live resin! Unrefined and pure, their cannabis is picked prior to extraction to ensure maximum terpene and cannabinoid retention. So don't wait – add Mistletoke live resin into your cart right now for a sensational experience!
NuggMD Medical Marijuana Card
Obtain your MMJ card with maximum privacy through NuggMD today! All of their cannabis industry physicians are appropriately licensed in the states where they provide services, and every client's personal data is safeguarded. Additionally, you will be able to take advantage of several advantages when you get a medical marijuana card: no sales tax on purchases, higher limits for possession – just to name a few! And if it doesn't apply to California patients only, NuggMD is offering an additional $30 off any other state's medical cards using code HOLIDAY30. Don't miss this incredible offer; join the world of legal weed now!
O2 Vape Flip Ultra 510 Key Fob Vape Pen
Show yourself some love this holiday season with the amazing Flip Ultra Vape Pen! Its sleek design and informative digital display provides you all the nifty details, including puff counter, voltage information, and battery life. The device is also equipped with a powerful 650 mAh battery that will last significantly longer than other vape pens on the market today. Plus, its adjustable voltage ranges from 2.1V up to 4.8V while providing an automatic flip lock feature for maximum safety when not in use!
Papa & Barkley THC Releaf Balm
For your fitness-obsessed friends, why not give them the peak of post-workout pampering with Papa & Barkley's THC Releaf Balm? This award winning cannabis balm is a perfect combination to soothe those aches and pains that come after strenuous activity. Plus, it has an instant warming sensation followed by cooling effects – creating hours of relief! It is absolutely ideal for athletes looking to supercharge their recovery process this holiday season; making it the ultimate gift or stocking stuffer!
Presidential Moon Rocks
If you're looking for the perfect cannabis gift, look no further than Presidential Moon Rocks! Crafted with organic bud and covered in top-shelf kief, these buds are expertly infused with premium THC distillate to guarantee a slow burn. Our exclusive infusion process penetrates every part of the flower – from its delicate petals to even down to its stem. So don't wait – grab some of our potent moon rocks today and stuff your buddies' stockings!
Puffco Proxy Travel Pipe
On the hunt for a memorable present to give someone who loves cannabis and has an old-fashioned taste? Look no further than Puffco's Proxy Travel Pipe! This shatterproof silicone pipe is not only aesthetically pleasing but also features a built-in storage compartment. If your giftee was born to travel and seeks companionship in smoking tools, this product makes for one of the most unique gifts out there – get yours before they all go up in smoke!
Queen Mary Boost Tincture
If you're looking for a jolt of caffeine-like energy to jumpstart your morning, Queen Mary's THCV and THC-infused elixir should be at the top of your list. Not only is it filled with natural Vitamin D and supplements that provide healthier brain stimulation than other products out there, but we are also offering an incredible deal when purchased from certain cannabis dispensaries. You'll receive not just one gift – but two! A complimentary scented candle AND torch lighter comes along with every purchase – perfect for yourself or gifting away during the holidays season. So don't wait any longer – grab some today to treat yourself right!
Slang O.pen Vape Happy Holidaze 2.0 Battery
Searching for a remarkable holiday gift? Look no further than Christmas cannabis products! Surprise your smoker friends and family with something unique this year. The O.pen Vape Happy Holidaze 2.0 Battery is an exclusive limited edition variable voltage battery that will keep them in jovial spirits throughout the season! This battery allows users to customize their vaping experience however they wish – what more could you ask for?!
Not to mention, these products come with their very own "Friend For Life Warranty" which pledges impeccable quality and reliable service when needed. Make one of these items your next stocking stuffer or white elephant gift – even if it's just for you!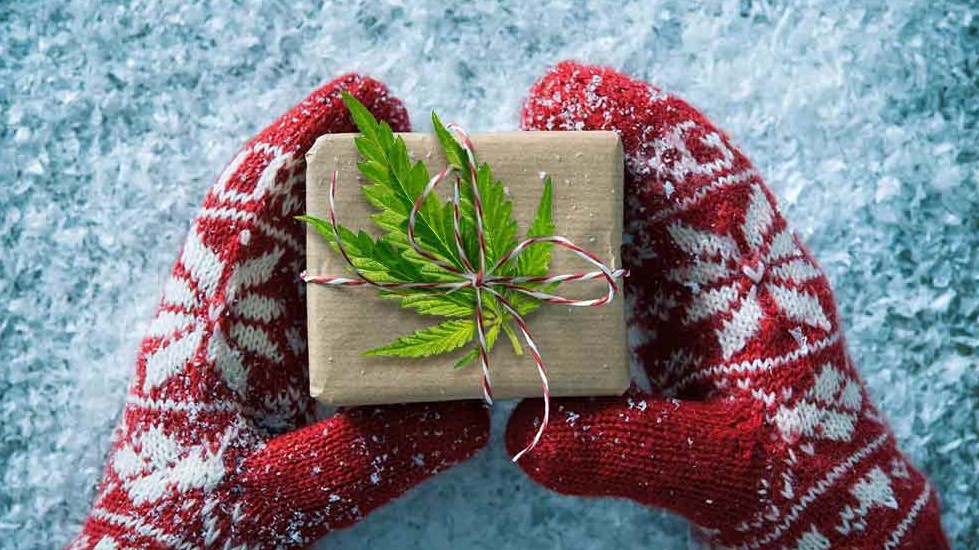 SprinJene Natural CBD Toothpaste
Is there someone whose smile can bring a city alive? Then SprinJene's naturally-infused CBD toothpaste is the ideal present to help them maintain their sparkle. This hemp-derived product, with its patented Black Seed Oil & Zinc formula enhanced by broad spectrum CBD, will keep teeth healthy and glowing – without any of the artificial ingredients that often come along! Not to mention it reduces dry mouth too! With SprinJene's natural flavored toothpaste they'll be able show off their dazzling grin with pride!
Stone Road Holiday Pre-Rolls
Get ready to celebrate the holidays in style with Stone Road's 5-pack pre-rolls! Their cannabis flower is naturally grown on a family farm in Nevada City, California using only tub wells and mini soils for their plants. Enjoy an array of flavors such as Rudolph's Red Eye Adventure, Super Stocking Stuffer, My Matzah Dream and Egg Nugg – all unique products that will give you an extraordinary experience this season!
Texas Original Sweet Dreams Medical Cannabis Gummies
If you're looking for a powerful sleeping aid, Texas Original's Sweet Dreams medical cannabis gummies are designed to alleviate sleep-related issues related to qualifying medical conditions. Not only do these vegan and gluten free treats contain CBN, THC, and rest terpenes – they also have no artificial dyes or flavors! All this can be yours with a valid prescription through the State of Texas' Compassionate Use Program. Get ready to enjoy sweet dreams tonight!
Tyson 2.0 Holy Ears Cherry Pie Punch Gummies
This holiday season, Mike Tyson and Evander Holyfield are reuniting after 25 years to create a special anniversary cannabis edible that is sure to make waves! These cherry pie-flavored gummies contain 25mg of Delta 8 THC each and will be the perfect present for any boxing fan or enthusiast who likes to indulge in the high life. Make this special occasion even more memorable by gifting your loved ones with something truly unforgettable: The Iron Mike & Real Deal's Cannabis Edible!
Willie's Reserve Vape Cartridge 1000mg
This holiday season, let Willie Nelson and his iconic cannabis brand, Willie's Reserve light up your life with their remarkable vape cartridges. Through the use of CO2-exctracted marijuana oil from certain strains combined with unique aromas,Willie's Reserve creates a truly special product that you won't want to miss out on! Be sure to take advantage of these deals found at Kind Care, Elevated Smokeys 420 and Trinidad Gardens dispensaries – they're offering 25% off 500mg or 1g vapes!
Wynk THC & CBD Selzter
Make the holidays unforgettable with Wynk cannabis drinks! These delectable beverages contain 2.5mg THC and 2.5mg CBD for a pleasant buzz that lasts 90 minutes without any of those nasty hangovers associated with alcohol. Delight your friends or serve up these special treats at holiday parties – Juicy Mango, Black Cherry Fizz, and Lime Twist flavors are sure to win over even the pickiest palates! Ready to experience its effects in just 10-15 minutes? Don't hesitate – grab these one-of-a kind gifts today!