The aroma of this cross-breed plant combines grapes with lavender undertones, which can help you relax and unwind while also feeding your appetite. Spirit Of 76 is recognized for being a high-yielding crop that may flourish in a warm outdoor environment.
Looking to try something new? Check out this Banana Milk marijuana strain.
The breeders at Kindman, in Denver, Colorado, created the Spirit Of 76 strain. This beautiful and fruitable plant has a smell like a bouquet of flowers with sweet fruits, making it an appealing plant. It is recognized for its uplifting and happy-go-lucky effects, which may help you set the tone for your day.
Spirit Of 76 is a hybrid strain that's also been used to successfully treat pain and depression. It's a popular plant in the medical sector because it is a strong pain reliever as well as an effective antidepressant, which has made it quite popular. Many patients have recommended Spirit Of 76, which should be utilized on a daily basis to observe long-term benefits.
Effects
The Spirit Of 76 is a very optimistic strain that starts its high by transporting you to pleasant memories and joyful ideas throughout your body. This cross-bred plant may help you start your day on the right foot by encouraging you to feel cheerful and optimistic, allowing you to focus your attention on those things around you that make you feel wonderful.
This mixture plant is also quite soothing, and you'll feel like you're on top of the world. Spirit Of 76 will erase all of your problems and anxious ideas, allowing you to enjoy a intellectually relaxing and intellectually stimulating type of mood.
This cannabis strain is ideal for conversation starters. You may expect to be more talkative and sociable while smoking it, especially if you are a quiet person. Spirit Of 76 will also help you think more creatively by allowing your ideas to jump out of the box in order to come up with unique concepts.
Fragrance
Sweet florals and lavender are frequently detected in the scent of Scent Of 76. This cross is also sour-smelling and fruity, with fresh grape and sweet pine taking center stage at all times.
Flavors
The aftertaste of this bud has flavors that are comparable to its fragrance, and the smoke tastes peppery on top of its usual sweetness. Spirit Of 76 has undertones of wood and spice, as well as pine and herbs. You will notice a sweet and fruit-flavored aftertaste on your tongue when you exhale.
Adverse Reaction
The effects of the strain can be unpleasant for some users who are not accustomed to such strains. This bud may make your eyes feel dry and itchy. A dry mouth feeling is also very probable. When you smoke this marijuana, you'll feel thirsty and dehydrated, so keep a bottle of water on hand at all times.
Smokers of this strain may feel dizziness as an unwanted side effect. Some users may experience a mild dizziness when smoking Spirit Of 76. For some unlucky individuals, this can mean a little headache at the conclusion of their high.
Medical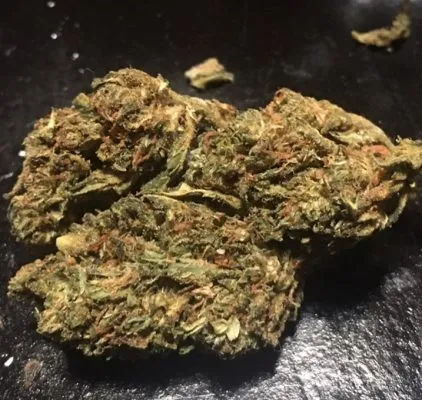 The cannabis strain known as "Spirit Of 76" has several beneficial applications that may be life-changing in the treatment of a variety of chronic illnesses. This bud is one of the finest strains for combatting chronic pain because it doesn't make you feel heavy or dazed like other strains do.
This mix flower can also be used to treat severe and chronic depression, as it may make the patient feel more clearheaded and attentive, as well as able to think more clearly. Spirit Of 76 can assist people in focusing on the positive rather than the negative, offering hope and making them feel more enlightened.
Depression, anxiety, and chronic anger can all be treated with this strain. This flower's antioxidants may help to reduce inflammation and relieve pain without suppressing the immune system. Chronic and severe stress can also be reduced by taking Spirit Of 76 first thing in the morning before experiencing strong emotions of pessimism, according to some studies.
This strain is great for treating anxiety and post-traumatic stress disorder. The calming effects of the indica complement this light, airy high and offer patients the peace they require. This strain's revitalizing qualities are beneficial in alleviating chronic stress and depression, which leaves you giggly and happy. This strain's added energy makes it ideal for persons suffering from chronic tiredness or sleep apnea.
Growing
The Sensi Star is a flavor and aroma hybrid. It's particularly popular in the United Kingdom, where it was initially released in 1970 by Sensi Seeds as a "masterpiece of generation." It produces lustrous colas with a good yield of sticky buds that are rich in THC and pleasant scents. The high has an indica-dominant influence and finishes off at around 1 hour. -> The Sensi Star can be cultivated both inside and outside, and it delivers enormous yields when properly cared for. This strain isn't difficult to grow, just need warm outdoor conditions.
Flowering Time
Indoors
In comparison, outdoors, the plant may produce up to 14 ounces per square meter. It takes roughly 8 to 9 weeks for this variety to bloom and mature before harvesting.
Outdoors
When growing to strain outside, you may expect a harvest of around 15 ounces per plant. Spirit Of 76 can be cultivated successfully outdoors and will be ready for harvesting by the end of October.
Have you ever smoked or cultivated your own Spirit of 76? Please let me know what you think of this marijuana strain in the comments area below.